Why Uhuru might not say 'tosha' to any 2022 aspirant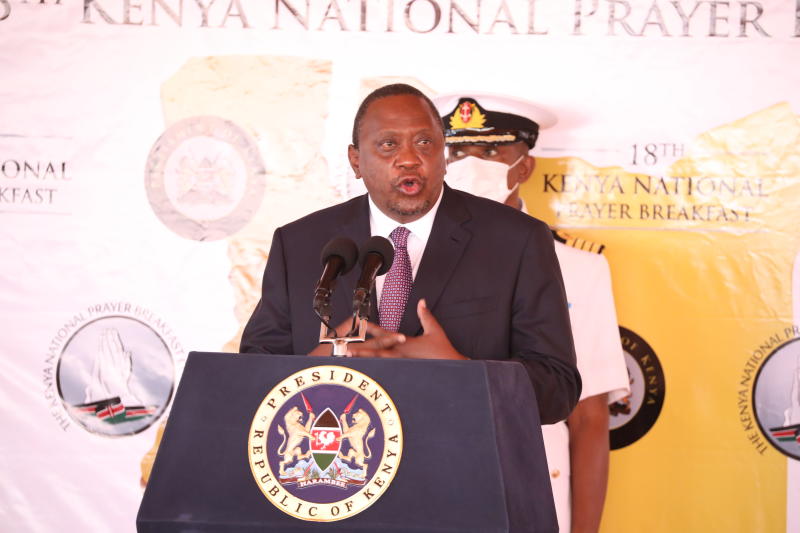 Today, Political Chessboard wishes to recant all the 'tosha' prescriptions it has made to President Uhuru Kenyatta since early 2020.
In this column, I extolled presidential hopefuls Raila Odinga, Musalia Mudavadi, Gideon Moi and Mukhisa Kituyi. I found them politically "beautiful of form and face" after their cosmetics were given to them, and hoped one of them would please the king come 2022.
I urge them to treat that as a joke and forget it just like a baby forgets their mother's milk because Uhuru is unlikely to make his political blessings public due to unavoidable circumstances.
I have compelling reasons as to why they must not covet the son of Jomo's saliva anymore. In any case, in the game of chess, if you are not the player, you are the piece.
The first writing on the wall is Speaker Justin Muturi's coronation as Agikuyu spokesperson. A section of Mount Kenya politicians and Mukurwe wa Nyagathanga shrine priests are soiling the event while holding their noses and are busy planning to cleanse the supposedly defiled shrine—all to trash the event that has Uhuru's footprints all over. They, however, are using him as a shield, and he hasn't stopped them. He is wiser.
Where are his footprints, you may ask? In this event, he was technically replaced as an Agikuyu spokesperson. He hasn't complained. His cousin, Kung'u Muigai-the Kenyatta family spokesperson- witnessed Muturi's anointing. I could be reading too much, but who then sent the high-profile security detail that oversaw the igongona (ritual)?
Muturi was isolated for eight days and that was in the public domain. Where were Mwangi wa Iria and the aggrieved Agikuyu priests who are complaining now?
Second, Uhuru Kenyatta is retiring as President, but he cannot retire as a politician at his age. Yes, he is the first president in Kenya to retire young and hopeful of serving in future. As such, Uhuru will not risk his subsequent political career through a futile endorsement doctrine. I could be wrong. But, if he does, the consequences will vindicate me.
Although this is not politically sweet, the reality is that the desire of an electorate everywhere in the world is to replace a regime that has already served its time. Regime change comes with the overhaul of the critical leadership system, bureaucracies and political hardware and software. Kenyans are already yearning to replace the Jubilee government, even if this means changing only the forest and retaining the monkeys. Enough said.
Finally, Jubilee Party is dead. If it were alive, it would be easier for our President to have a standing ground—now he cannot stand. Jubilee was a political body made up of many parts—TNA was the head and URP the limbs.
They were all baptised under the same manifesto and had one chief priest, Uhuru, and a prophet, William Ruto. The prophet isn't there to prophesy to the priest on the correct timing of offering political sacrifices.
It has been messy. Since some parts have detached from Jubilee, the whole body is sick, and it is not fit to be presented as a party without blemish in 2022.
Long story short, there have been a million indications that if Uhuru endorses a presidential candidate come 2022, he will repeat the late President Moi's 2002 error, and it might end in premium tears.
Dr Ndonye is a Political Economist of Communication