Give the many hawkers trying to earn an honest living room to operate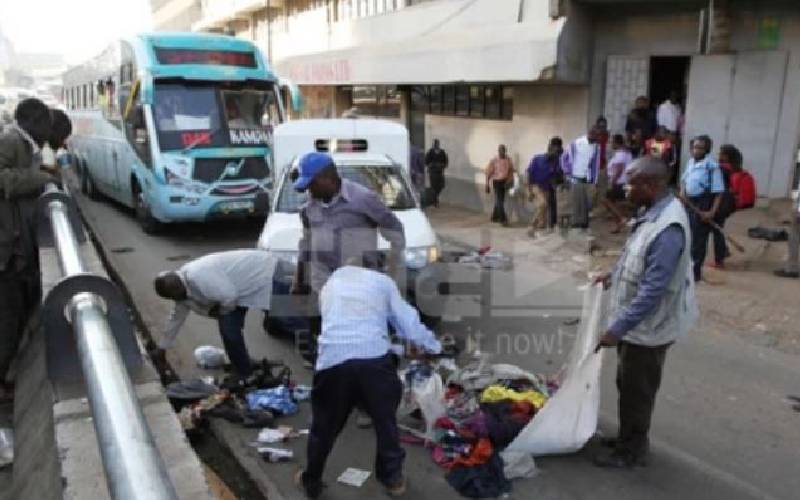 It was the most traumatic thing that I experienced at the age of 10. I had just finished buying two kilos of tomatoes when the 'kanjos' (council askaris) jumped out of their fast-moving lorry and with a sudden burst of violence, descended on the hawkers and started beating up everyone.
The hawkers ran for their lives while trying to hang onto their goods. It was all so sad and unnecessary. I was left there wondering how I was going to pay for the tomatoes or whether it was fair to go home with tomatoes that I had not paid for. This was my first encounter with the challenges that hawkers face.
Hawkers have always been in conflict with shopkeepers who complain that they don't pay taxes or rent and therefore operate with very little overheads. Hawkers can undercut the shops and in some areas have even led to shops close.
Over 60 per cent of Kenyans make their living through the informal sector, which is largely hawking. In the absence of jobs, many people have no option but to survive by any means necessary. Hawking is the quickest way to try and make a living. In such a case, we, as Kenyans, have to look at how we can help.
It's a difficult life with many challenges. Hawkers get goods from traders on credit and go into the street trying to sell them for a profit. If they don't sell, they go home at the end of the day empty-handed. Many hawkers are forced to borrow money at exorbitant rates from shylocks. It's a terrible cost they have to pay since most of their hard-earned profits end up with these lenders.
I have watched hawkers on the Mombasa- Nairobi highway selling water while dodging heavy trucks and fast cars. These people deserve our respect.
There have been different solutions proposed and tried in various countries to the hawker's challenges. Bangkok has built large malls with hundreds of small stalls which hawkers can afford.
These malls are very popular. During the weekends, many American cities close entire streets and turn them into hawkers' markets. In Spain, hawkers markets move from one area to another on different days. All of these different ideas help the hawkers and reduce conflicts with shopkeepers.
In Kenya, we have attempted to set up hawkers' markets but they are too small and too few. The costs of stalls are too high and the spaces are limited.
A few hawkers are removed from the streets but these markets do not cater for the thousands more who come into the street looking for a living.
We need a Kenyan solution that will blend all of the above. Freemark in Nairobi was a great success story until it burnt down, exposing the high risk that hawkers face from not having insurance. County governments need to set up simple financing schemes to save hawkers from being exploited by shylocks.
This finance could be regulated by the local hawkers' committees who are well organised. Counties should also cancel all licenses and permit requirements as most cannot afford them.
Most important, harassment of hawkers by askaris should stop. Counties should provide facilities like toilets as happens in all hawkers' markets in Spain. We need to find the right balance between the hawkers and the shopkeepers. There is enough business for everyone.