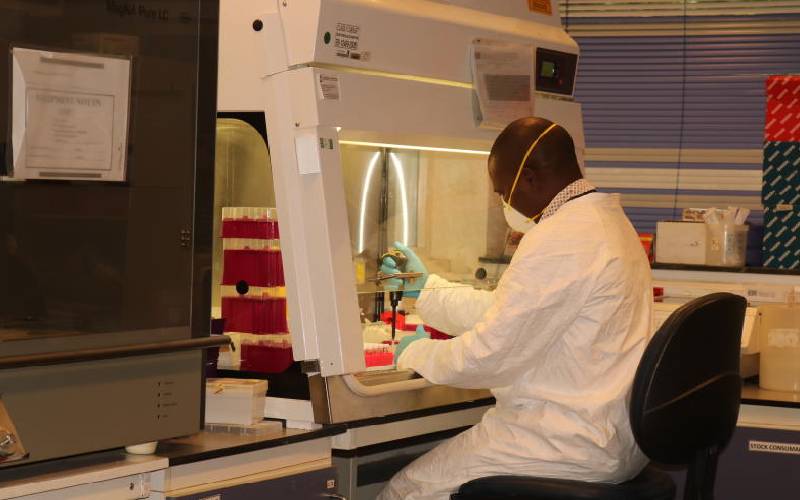 A new variant of the coronavirus that was discovered in the United Kingdom has been found in multiple countries, posing an even greater challenge. Despite vaccines making headway in a number of nations, the future of humanity is still marred by the murky waters of uncertainty.
However, the World Health Organisation (WHO) reports that Africa has had fewer infections and deaths than the Americas, Europe or Asia. The low numbers could be attributed to insufficient testing or other factors on the ground.
Amid this pandemic, Africa still carries the highest share of global preventable diseases burden. Malaria, for example, has been a major killer here for generations. World Malaria Report statistics released in November last year indicate that there were 411,000 and 409,000 malaria deaths in 2018 and 2019, respectively. Africa accounted for 94 per cent of malaria cases and deaths in 2019.
Additionally, of the people living with HIV in the world, sub-Saharan Africa accounts for over 68 per cent. About 20.6 million of them live in East and Southern Africa. According to UNAIDS, between 500,000 and 970,000 people died in 2019 from HIV-related illnesses. Unsurprisingly, Africa had a majority of the casualties.
Read More
Kenya ranks among the top HIV epidemic centres in the world, alongside Uganda and Mozambique, despite embarking on massive preventive measures. In 2019 alone, HIV and Aids organisations noted that 1.5 million people were living with HIV in Kenya; there were also 42,000 new infections and 21,000 Aids-related deaths.
Other ailments that lead to significant deaths in the continent are Ebola, meningococcal disease, hepatitis B and C, rabies, tuberculosis and waterborne diseases. Against this backdrop, questions can be asked as to whether Africa in general and Kenya, in particular, has what it takes to develop medicines, cures or vaccines for these preventable diseases.
A harsh inference from the Covid-19 pandemic is that despite being part of the global world order, Africa plays second fiddle. A BBC article titled, 'Africa's long wait for the Covid-19 vaccine', published on January 22 says Africa may have to wait for several weeks or months for Covid-19 vaccines approved by WHO. This isn't the first time the continent is caught up in such a waiting game; bending its knees and begging for the world to intervene in restoring its health.
African nations have failed to work their way out of the spiral of Western/Eastern dependency, despite claiming independence and self-governance over half a century ago. Now, the lives of millions of people depend on whether African states can get Covid-19 vaccines and enable the common person to access them.
As the pandemic takes its toll, and with the second wave steadily creeping across the world, Africa is left at the mercy of dysfunctional regimes that nonchalantly ignore the potential of local scientists, doctors, chemists and physicians. It's no wonder that Africa has been and is still portrayed as below the human food chain and requires unending foreign aid and pampering. The incapacity to handle preventable diseases and epidemics independent of foreign actors is shameful.
In contrast, while responding to Covid-19, Western and Eastern countries were quick to ratify precautionary laws to protect their citizens. Next, they supported scientists who went to work and later developed vaccines in record time. During the same period, Africa - the habitual beggar - waited patiently to receive handouts: medical aid packages, face masks, PPE kits, and now the vaccine.
Serial dependency
Having learned how credible regimes work to care for their own, the sleeping giant has to wake up and step up its game: keep away from serial dependency, know that its people's lives matter, set its own sustainable priorities, invest in research and development, build capacities of its scientists, and take control of our lives.
Kenya can't be excluded from this reality check. As happens every election cycle, the nation has once again emulated the proverbial ostrich and ignored the most urgent issues: a possible deadly second coronavirus wave, environmental disasters around Rift Valley lakes and Lake Victoria, annual droughts and starvation in arid areas, preventable diseases that kill thousands annually, recurrent floods, land questions in various parts of the country, the war on corruption, and issues of governance both at national and county levels. Instead, politicians are going to churches and funerals to lay down strategies for inconsequential political alliances, BBI and 2022 polls.
Mr Ojoo is a guest lecturer in Intercultural Management and Team Efficiency at Duale Hochschule Baden-Württemberg, Mosbach, Germany