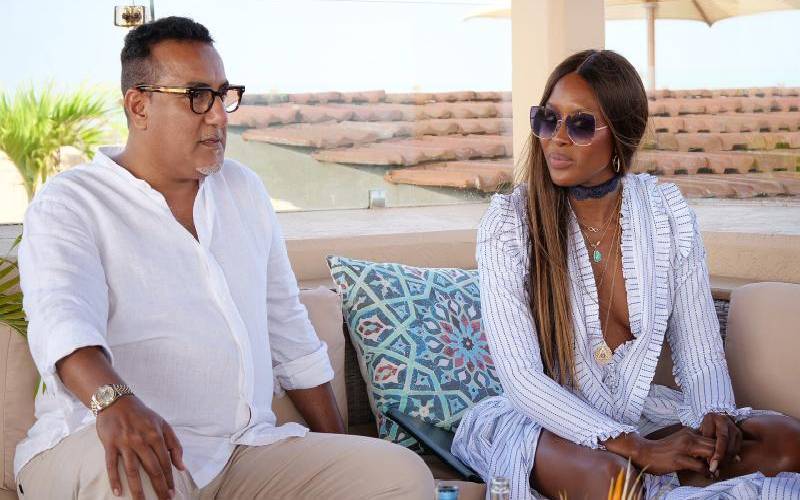 Three weeks ago, relatively few people had heard of British super model Naomi Campbell. Fewer still had known of her annual expeditions to Kenya.
That changed when Tourism Cabinet Secretary (CS) Najib Balala appointed her Kenya's tourism ambassador. Social media exploded!
Many questioned the wisdom of appointing a 50-year old to the rigorous task of reinforcing the Magical Kenya brand overseas.
Others wondered why a bona fide Kenyan star could not have been curated for the role. They singled out movie actress Lupita Nyong'o and athletics marvel Eliud Kipchoge as worthy candidates.
Mr Balala has offered an explanation. Even though one of his excuses, that Lupita was unreachable for five years, has been debunked as farcical by Ms Nyong'o herself, the rest checks out.
For one, Campbell has serious brand equity, cultivated over three decades, which she brings to Magical Kenya. Then, as the CS has mentioned, his ministry targets specific markets for which specific people are required to promote.
Tourism is not a "one size fits all "venture. The huge variety of markets means there are always different strokes for different folks.
For example, there are the backpacker types who travel the world over on a shoe-string budget. They scrape together just enough money to purchase a ticket to a destination like Kenya.
Upon arrival, they will thumb rides, eat cheap and sleep rough as they move around the country. Occasionally, where permissible, they will take on odd jobs to save just enough for an exit ticket to yet another destination.
There is the local butcher from Verona Italy, who will scrimp and save for five years so that he can treat his family to a package holiday at the Kenyan coast. In all probability, this will be a full-board package with buffet meals and "all you can drink" beverages. The butcher will never leave the hotel, preferring to get rip-roaring drunk on cheap alcohol as his family swims in the hotel pool for the entire vacation.
Then there are premium tourists who arrive in private jets or at the very least, fly first class on commercial airlines. These are the sort of tourists "5-star" was intended for.
No expenses are spared to make their stay comfortable. All their meals are dear ala carte affairs. They do not stay confined to one location for long, preferring to travel to the country's wildlife parks and to sample other tourist attractions.
They are the biggest purchasers of curios and other memorabilia spending copious amounts in foreign currency.
Naomi Campbell speaks to the premium tourist. She is after all one herself. One of just five supermodels of the 1990s, she is still highly sought after for her worldwide reputation and her background in haute couture.
She commands a cult following among the world's A-listers. Balala has, therefore, pulled off quite a coup in snagging her for the Magical Kenya job.
Why, many have asked, do we need premium tourists? Why not settle for local, backpacker or package types? The answer to these questions lies in the fact that 5-star hotels and resorts are expensive to maintain.
The incomes from these latter groups are hardly sufficient to keep them running and must be supplemented by inflows from high net-worth clients. Typically, to qualify as a premium establishment, hotels must be renovated every five years.
Everything gets changed during such renovation, from the linen to fixtures such as door handles and bathroom fittings. The old goes out as whatever is latest in the international market comes in.
This may come across as trite to the package tourist but the premium holiday-maker will not want to stay in a room with leaky faucets from a decade earlier.
Nor will they want to walk on threadbare carpets, nor sleep on old linen. Yet this group is very necessary for the survival of tourism, nay, the very heartbeat of industry itself.
Kenya can go one of two ways; go cheap, open itself up to hordes of tourists on a budget and fill every hotel with masses on a package.
The downside of this would be an overrun of features such as our national parks with numbers that could precipitate human-wildlife conflict.
Or have a mix of premium and regular tourists, pricing our most prized features out of the league of those incapable of leaving them in a pristine condition. Different strokes for different folks.
CS Balala has got it right in signing Naomi Campbell. Congratulations are in order!
-Khafafa is a public policy analyst