Jubilee failures: Why Raila isn't blameless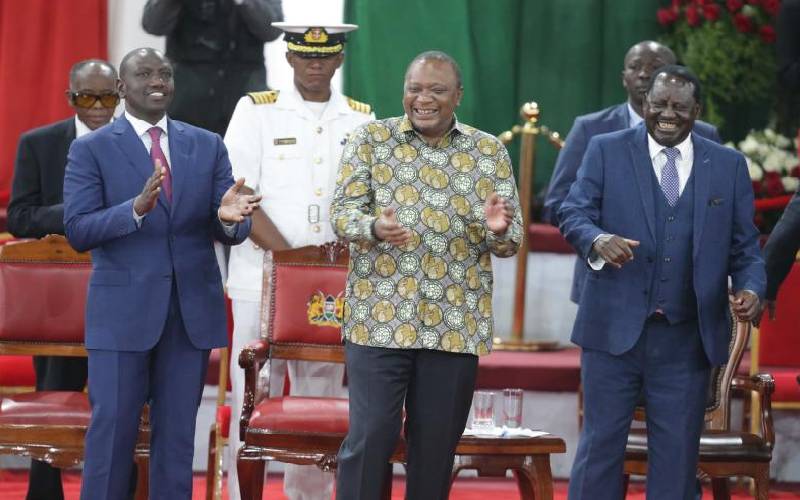 By his own admission, former PM Raila Odinga said the March 2018 handshake was meant to restore stability, deepen the reform process and restore prosperity and probity in the country's governance.
Three years on, many feel there is little to show for it. Besides the never-ending acrimony, the people are in the same economic condition if not worse than when the handshake happened, while public debt has soared. Meanwhile, corruption, nepotism and inefficiency continue to be a constant drag while the reform process fashioned under the BBI remains a pie in the sky.
In the last week, Raila and Deputy President William Ruto have been locked up in a contest of blame, much akin to two men who after jumping out of a burning house instead of quenching the raging fires, first want to find out who lit the matchstick.
No doubt, Dr Ruto cannot escape the blame, after all, he was elected in the poll that Raila boycotted over claims of vote-rigging. By the same measure, Raila might find it hard to extricate himself from his entanglement with Jubilee, having accepted the invitation to co-govern with the "dynamic duo". Increasingly, with about 18 months to go, the burden of proof is on him; Ataambia watu nini sasa?
What has been political nectar for him is slowly becoming an electoral poison. It seems Raila got into the deal without an exit strategy in mind. Did he not consider that his friendship-with-benefits relationship with Jubilee came with consequences, one which was the loss of a glittering resume as a champion of good governance, human rights, equity, transparency and freedom?
Obviously, of the three (him, the President Uhuru Kenyatta and Ruto), Raila is the older and maybe the most experienced. He is battle-hardened and perhaps a little wiser from a long stay in the rough and tumble of the political field. He has played dangerous political games before and the handshake - by all means - might have been the last throw of the dice for him.
Alas, so far, he has projected frightening naïveté, a constant worry to his confidants who think he probably got into the handshake without an exit strategy. Considered nimble and agile, it has seemed as though the Hustler Nation narrative caught him off-guard. And his attempts to play catch up and deconstruct the narrative are exposing an anxiety and a desperation to turn the tide his way.
He needs to quickly find his way back into the game. Attacking Ruto is not one such way. It has been tried and tested the last three years and, evidently, it has not worked.
As for BBI, he needs to think of a Plan B, were the referendum to flop, concentrate on the much-needed sprucing up of his image and shake off the caricature of a sell-out who colluded with Jubilee to beat down Wanjiku. Yet, rather than be the opportunistic Opposition, he and his party ODM have portrayed an aura of "being more government" than Jubilee, often obsessing about non-issues like gauging the degree of loyalty of the President's lieutenants and thrice threatening to impeach Ruto without actually doing it.
By doing so, ODM has moved away from its brand identity as the defender of human rights, equity, freedom and good governance. Why has ODM been willing and ready to embrace and carry the Jubilee monkey across the river?
For example, it has whipped its parliamentary members to do the bidding for Jubilee's fighting factions, skirting public interest agitation that had been its strongest selling point.
Those who dare criticise Raila and ODM's reluctance to offer a viable alternative to the quarrelling Jubilee are quickly taken down by cyber warriors and virulent supporters quick to remind them that Raila has "fought hard for the country at great personal costs" and that it is time for somebody else to hold the feet of the government to the fire.
And surely, the chickens are coming home to roost. Increasingly, people feel abandoned on the shores of River Jordan on that journey to Canaan.
We can't forget Raila's awkwardness after seemingly approving flights from China at the height of the Covid-19 in March and failure to question government's appalling mishandling of the disease's outbreak and misuse of funds.
Though it would seem Raila may have forgotten the golden rule that he who sups with the devil should have a long spoon, he could still wriggle his way out as he did in 2002 when many thought Kanu had ensnared him. He ran off to found the Rainbow Coalition with Mwai Kibaki and Charity Ngilu, among others, leading to the Narc victory.
That was 20 years ago. Raila should consider what an unworthy end to an illustrious political career could look like. It is a possibility.
Mr Kipkemboi is an Associate Editor at The Standard