Devolution is changing people's lives in a big way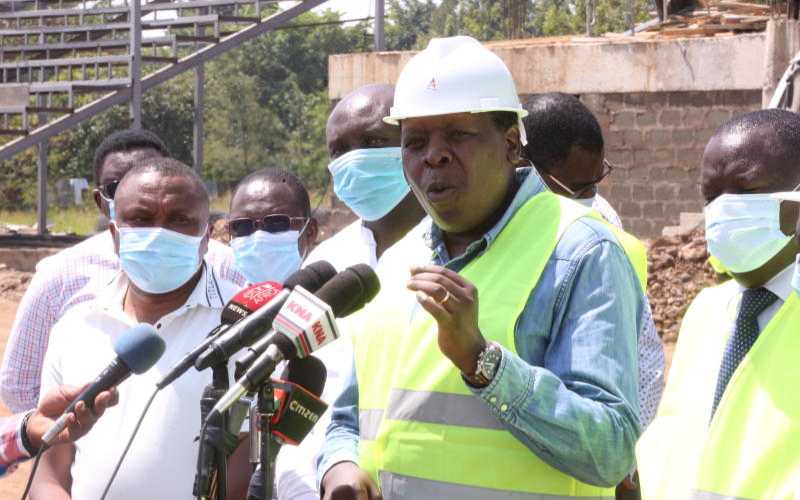 Eight years into devolution, counties continue to implement high impact projects with a view to improving socio-economic wellbeing of citizens while changing the physical and social features of Kenya's landscape. The projects undertaken with resources from the consolidated fund and in partnership with others have provided real meaning.
Devolution is working. This statement was recently underscored by the Cabinet Secretary for Devolution, Arid and Semi-Arid Lands, Eugene Wamalwa, while opening a series of projects in Siaya County, built to standards, using modest resources and of high impact to residents. The Ambira Hospital Maternity Wing, the county government headquarters, the 300 bed capacity Covid-19 isolation centres spread across the county, the Ahindi and Siaya Governor's recreation parks are just but a tip of the various life changing programmes we have undertaken together with partners like the National Government and the World Bank.
In the 2018/2019 financial year, we received Sh103 million as investment grant from World Bank through Kenya Devolution Support Programme. The funds were invested in the agriculture sector with Sh28 million used to rehabilitate five water pans to promote horticulture while Sh75 million was used to construct three maternity wings with a theatre in Ambira, Ukwala and Madiany sub-county hospitals at an estimated cost of Sh25 million for each.
During the 2019/2020 financial wear, we further received Sh50 million from the World Bank through the Kenya Urban Support Programme and invested in the upgrading of recreational facilities. We have also invested own funds in numerous infrastructural projects, among them the Siaya County Stadium at an estimated cost of Sh400 million which is work in progress. In our continued efforts towards preparedness to fight Covid-19 pandemic, we recently invested Sh97 million which we received as a conditional grant from the National Government and a further Sh30 million from World Bank through Kenya Devolution Support Programme to construct 300 bed capacity Covid-19 isolation units at Siaya County Referral Hospital with 200 beds, Bondo sub-county hospital with 50 beds and Ambira sub-county hospital with 50 beds. This is additional isolation bed capacity over and above our existing 66 bed isolation capacity bringing our total isolation bed capacity to 366 beds.
The new maternity wing at Ambira sub-county hospital will significantly increase the number of hospital deliveries in Ugunja and its environs. This will enhance safe deliveries hence lead to reduced mother and child mortality rates during deliveries as the facility now has increased bed capacity and modern theater arising from establishment of the wing.
The Ahindi Garden and Siaya Governor's recreation parks have significantly improved the image of Siaya town. The two parks have nowundergone proper landscaping and have various services including storm water drainage, garden benches, fountains, washrooms and walkways.
The green and serene environments created by the two parks will improve environmental health and increase the property value of buildings within the surrounding areas. To safeguard the aesthetics and nature of the parks, we have developed a park management policy. I therefore urge park users to adhere to the guidelines and keep them clean and safe for all.
The need for a central and modern working station for effective governance and service delivery cannot be gainsaid. A county headquarter building consolidates the main offices of county government thereby making public service easily accessible to the wananchi. The core objective of devolution was to bring services closer to the people.
In the last eight years, counties have prioritised provision of basic services to citizens. Because of this, it would have been insensitive to undertake the construction of magnificent buildings earlier instead of addressing the myriad pressing needs of the general populace.
The construction of the county headquarters office building at this time when we have already endeavored to mitigate against a number of basic needs of our people, is, therefore, timely and justified. That the Building Bridges Initiative (BBI) proposes to provide an additional allocation of resources to the counties is, therefore, justifiable because evidently, devolution is working and changing peoples' lives for the better.
-The writer is the Siaya County Governor