It is a shame elections always leave us in tears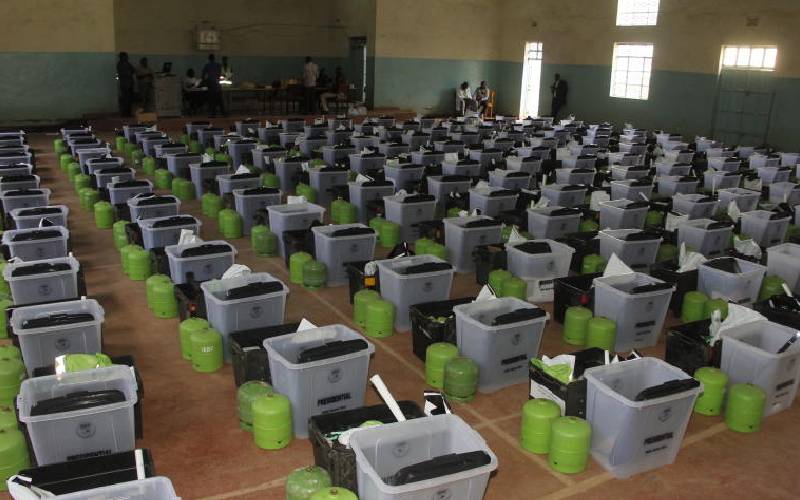 The international community is reportedly putting pressure on our political actors to tone down their toxic rhetoric, which could plunge the country into political violence as happens during every general election. Specifically, our friends are interested in seeing reconciliation between President Uhuru Kenyatta and his deputy William Ruto if only for the sake of peace.
True, as we gear up for the 2022 elections, political differences are rising by the day. Political activism is already causing rifts between ethnic groups, and of late generating narratives of classism. The us-vs-them framing is already taking shape in public rallies. Tellingly, it is the president and his deputy's honchos who are leading the pack in tearing apart the walls of peace.
It is good that the international community is keen to ensure peace in our country. However, it would be better if a line is drawn between coercing political parties interested in power into a reconciliation of convenience and entrenching a culture of healthy political competitiveness.
Since the 2007 post-election violence, a lot of reconciliation efforts have been made to bring together conflicting parties. The famous power sharing between former President Mwai Kibaki and former Prime Minister Raila Odinga is a living example. While we appreciate that the country would have been hit by anarchy had such timely efforts not been made, the same coercive diplomacy cannot be applied at every election.
Understandably, the reason for the international community's intervention is of course based on the fear that our uncontrolled appetite for power and money might go out of hand and turn into violence. We should be ashamed that our international partners are raising the red flag on the direction we are taking.
To avoid turning reconciliation into merely pushing parties into settling for agreements that are eventually not respected, it is imperative that the international community pushes those seeking political power, through elective processes, to take personal responsibility for any acts of violence that may arise as a result of their activities.
More importantly, it is on record that politicians have promised in the past that "never again shall Kenyans kill one another because of elective politics".
It is this promise that carries weight. The traumas of the 2007 post-election violence and the experience of 2017 where we had two swearing-in ceremonies -- of a legally elected president and a people's president -- remind us that we are yet to internalise "never again shall Kenyans kill one another because of election-related politics". "Never again" means politicians should never resort to strategies that lead to violence. The basic principle here is that every Kenyan's life matters. Respecting every life means respecting every voter and the entire electoral process.
The international community will therefore achieve a lot more than reconciliation if they push for an electoral process based on the principles of democracy. Reconciliation processes require more structured approaches as, generally, they are meant to address the grievances of opposing parties.
It is healthy for political parties to emerge if and when necessary. Often we are reminded that there are no permanent friends or enemies in politics, and that what's permanent are only interests. As such, it should never be our business to reconcile political parties that want to split. Instead, ours should be to ensure that justice and peace are strictly observed during the entire electoral process.
Political pluralism
We should be careful not to kill political pluralism because "we want peace at all costs". Those seeking power and money should be made to know that justice and peace are core ingredients of political maturity and civilisation. It should sink in them that giving threats in public or working evil schemes to harm other people for political gain is primitivistic.
Until this is internalised among political aspirants, reconciliation alone will not solve the risks associated with our weak electoral process.
As people who profess democracy, emphasis should be placed on upholding the principles of a fair, credible and transparent elections. We cannot invest in reconciling conflicting people at all times as if there are no principles guiding their civic responsibilities.
Together with the international community, we need to reflect on more sustainable ways of conducting peaceful elections. It will be in our interest as Kenyans that we promote competitive politics without, after every election, shuttling to reconcile people who have little regard for the electoral process.
-Dr Mokua teaches communication studies