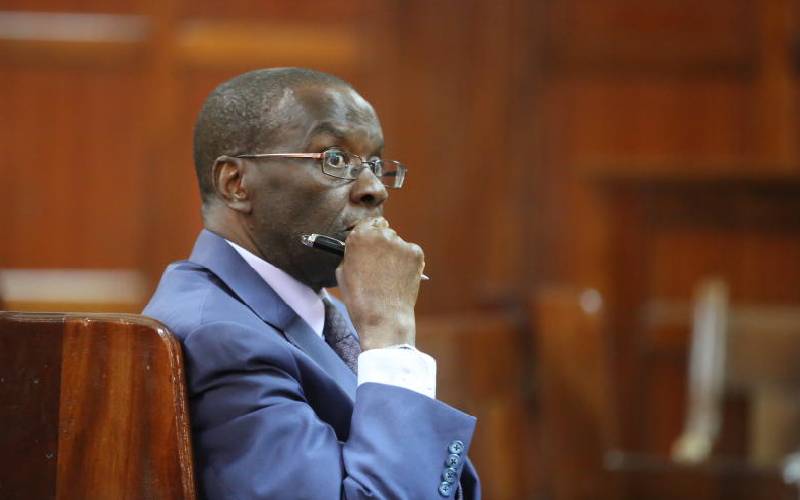 Dr Willy Mutunga has been my friend for almost 20 years and I hold him in high regard. His contribution to our society has been tremendous. He has fought for the freedoms that we enjoy and take for granted today and even went to jail during the struggle.
His greatest contribution was in the writing of the Constitution 2010, which he described as a "constitution written by the people and imposed on the rulers". His humbleness and humility have never changed ever since I knew him. Rudyard Kipling best described such men in his poem "If" when he wrote "if you can walk with Kings — nor lost the common touch and talk to crowds and still maintain your virtue then you are a man." Mutunga represents the best of what our civil society has achieved on our behalf.
Mutunga's career reflects the changing perception of civil society in Kenya. In the Nyayo days, it was perceived as subversive and dangerous, hence the incarceration of Mutunga. Then Kenya went into a honeymoon period with civil society's contribution to the Constitution and Mutunga's election as Chief Justice. Now Kenya is again not sure, but for sure, the honeymoon has soured.
The contributions of civil society are immense. They have helped democratise our society, checked police and institutional violence and abuse of power. They have legislated and protected our freedom of speech and supported environmental preservation. Some of the bravest men and women we have are from civil society and their unwavering commitment has changed this country for the better. We salute them.
Read More
Today's debate on the Constitution is also a debate on the role of civil society. There is a constant complaint that this constitution was driven by activists who did not take into account Kenya's political and social realities. It tried to impose some values that are alien to Kenya.
Unfortunately, civil society activism has also become a business for some people and they have tarnished the image of the original civil society. They have become mercenaries for hire. They are being used to push business and political rivalries. Sometimes we see civil society challenge projects that are clearly for the benefit of our country, and you wonder why. The only conclusion is that they are promoting someone else's agenda.
Why, for example, would civil society challenge the building of Lapsset in Lamu knowing very well that it would create thousands of jobs for the marginalised and poor areas of Kenya? Why would it stop the Kinangop Wind Power project by misleading residents that their cattle would die and that men would become impotent – then turn to the coal project in Lamu and demand it should be replaced with the wind power that they opposed in Kinangop?
Civil society has challenged almost every major infrastructure project in Kenya, causing delays and increased costs and deterring investors at a time we desperately need to create jobs. As Golda Meir famously quipped "sometimes every society has to make compromises with its conscience."
Civil society has elevated itself to be the moral and civil conscience of our country. This is a great and noble aspiration, which I support. However, the question arises; who will monitor the conscience and honesty of civil society organisations? We have too many guns for hire posing as civil society today and civil society has a moral responsibility to control this. While they have a right to be the conscience of our country, they also have a responsibility to balance advocacy and economic priorities of our country.
Unfortunately, the civil society exhibits signs of myopia today; shoot from the hip and ask questions later. It is extremely disheartening to see people oppose major economic projects before they have properly interrogated and understood them. They owe it to Kenyans to fully understand the economic, social and environmental aspects first before shooting anything down. We can respect their right to criticise, but they must also hear the side of the project implementers before criticising.
There is need for civil society to communicate more and to interrogate projects in greater depth. While they retain the right to challenge and criticise, they also have a responsibility to support development projects and be a force for improvement and delivery in a more responsible manner. Civil society should invite all proponents and opponents of major projects to give their views. This 'Commission of Inquiry' would give the public the right to hear all the facts and then decide. I believe that they, too, would like to see our country develop.
Mr Shahbal is chairman of Gulf Group of Companies. [email protected]