Our Constitution is good but it lacks 'Kenyanness'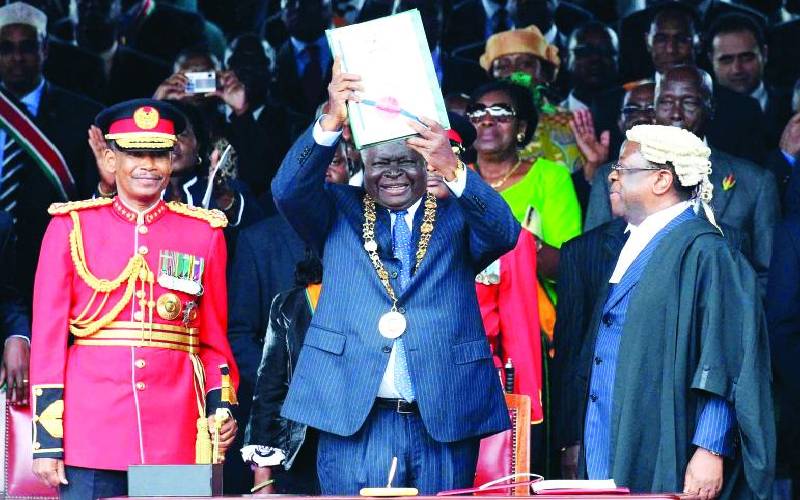 It is 10 years since the Constitution 2010 was promulgated, yet we still struggle with its implementation. There is little to show for the promise of a new dawn of constitutionalism, rule of law and socio-economic advancement. According to some indicators, we are even worse off.
Let us disabuse ourselves of the notion that constitutionalism is all we need to cure our culture of impunity. It is not enough for the Constitution to be good; it must be homemade and fit into the psyche of those it governs.
The Constitution has to emerge from society and not be cosmetically superimposed on it. The Constitution of Kenya 2010 is a good document, but it is not Kenyan.
Like any contract, for parties to abide by its terms, they must be directly involved in its creation – the wording, meaning and implication of its clauses must come from the people. Otherwise, they soon discover that either their wishes were misrepresented or that what they signed up for is totally different from what they intended. Wanton defiance then becomes the norm.
This is what is happening now. Kenyans thought they were exchanging a presidential dictatorship for a hierarchical, separated government in which players would not be afraid to act decisively on corruption.
They were wrong. Instead of a swashbuckling presidency – like John Magufuli's, for want of better comparison – we have a slow-burning system, which even the smallest of decisions requires the 'cooperation of all players'.
The President cannot sack people without the matter of due process being considered, and that makes Kenyans sick.
Today's hot topic is the clamour for constitutional reform through the Building Bridges Initiative. The intention is to cure our love affair with the presidency; mischief, ironically, the constitution sought to deal within the first place.
The essence of devolution was to guarantee the equitable distribution of resources without having to rely on presidential goodwill.
Yet, judging from the manner in which the initiative for amendment has gripped the nation, Kenyans are not less in love with the top seat than they were 10 years ago.
Even more so, we seem to have misunderstood devolution as creating semi-autonomous states. And when we discovered this was not possible due to the little income each county could generate, we started squabbling over the division of revenue from the national government.
A small problem with an obvious solution has become complex because legislators and a section of Kenyans do not appreciate the concept of equitable sharing.
A decade later, the government cannot wrap its head around the two-thirds gender rule. I struggle to find a better example of the disconnect between good and actual practice, reality versus fantasy.
The Constitution seems to be one of the needs rather than a constitution of wants; a collection of pious platitudes and lofty ambitions that we will struggle to achieve.
Equitable representation is good, but if Kenyans really wanted it as laid out in the Constitution, they would have found means of ensuring it is achieved without the need for a constitutional provision.
Our constitution is liberal and democratic, but the Kenyan society is nothing close.
The idea was that this constitution would maintain society as it is while safeguarding minority rights and freedoms – which is a good thing because everyone would be protected.
But when confronted with barbed problems like sexual and religious rights, judges tend to reflect the mood of the society by rendering conservative decisions.
Today, a Kenyan homosexual cannot marry from his orientation or display his affection in public and consequently has no access to family rights, health and a host of other freedoms in a supposedly equal world.
As for religion, the Constitution speaks of a secular state when the country is deeply religious.
Secularism means separation of worship and the State, the total removal of religion from public space. But this is not what happens. Prayer and public functions are bedfellows.
The national anthem and the preamble to the Constitution are prayers, which, in fact, endorse a religious state. This is a mood also reflected in the streets where atheists are viewed like the spawn of Satan and their genuine concerns simply ignored.
Lest I be misconstrued, my intention is not to discredit the Constitution 2010; neither is it to challenge the liberal democratic constitution as the pinnacle of constitutions.
I simply propose that the Constitution be designed to fit and reflect Kenya as we know it. Perhaps then it would be easier to honour it.
Ironically, what gives ours international credence is not its Kenyanness, but the fact that it bears all the hallmarks of what is universally accepted as a 'pioneering constitution'. And therein lies the problem.
Mr Ouma is an Advocate of the High Court if Kenya, and Managing Partner at G.M. Gamma [email protected]