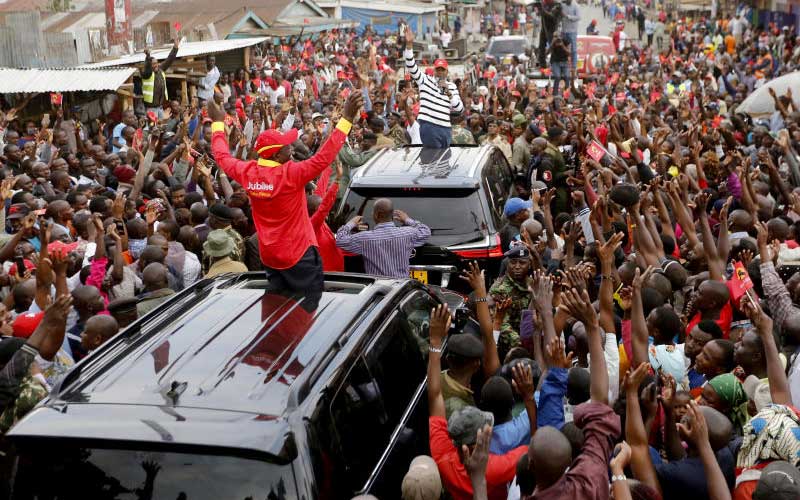 Fellow Kenyans, we are deep in a hole, yet we keep on digging. Picture this: The Executive is at war with itself, the President is set apart from his Deputy as far apart as North is from South; Cabinet secretaries owe their allegiance to either of them.

The Judiciary is at loggerheads with the Legislature, ditto the Executive. Chief Justice David Maraga's advisory to President Uhuru Kenyatta to dissolve Parliament is the clearest indicator of a dearth of synergy between the three government arms.

Corruption has hit its nadir. Counties are almost shutting down due to stifled revenue flow. After a rather protracted and acrimonious debate in the Senate over the formula for revenue allocation to the devolved units. So chilling is a growing tension, cacophony and pandemonium in the political arena that organised violence is fast creeping back as warmongers beat the drums of war.

That the economy is in the doldrums is no secret and things can only worsen, thanks to the devastating effects of the Covid-19 pandemic. Where then is the problem? Our Achilles heel is a rudderless, even clueless leadership that appears unable to provide proper national anchorage in times of crisis.

Perhaps in expressing his frustration at the sad situation in his country then, US President Barack Obama could as well have had us in mind when he wrote in The Audacity of Hope: Thoughts on Reclaiming the American Dream: "What's troubling is the gap between the magnitude of our challenges and the smallness of our politics - the ease with which we are distracted by the petty and trivial, our chronic avoidance of tough decisions, our seeming inability to build a working consensus to tackle any big problem".

Read More
The Jubilee Party has seems to have effectively cast its manifesto into the dustbin. Vision 2030 or the Big Four Agenda no longer seems to be its roadmaps to making our lives better.

Instead, it is head-deep into transient trivia and mediocrity dubbed Kieleweke, Tangatanga or Hustler Nation. For starters, the 'Hustler Nation' narrative must be seen for what it is - clever but devious trickery. With eight years at the apex of our power pyramid, why does the 'Hustler nation' brigade all of a sudden find the urgent need to connect with the downtrodden, the God-forsaken mwananchi so as to rescue them from the 'dynasties'?

Have we not seen these politicians happily share the dining table with those they now malign? Has their Damascus moment come too soon? Of course not, its only politically expedient for them to shamelessly scream and sell poisonous lies to the destitute electorate now.

In a nutshell, Vision 2030 sought to propel us to a middle-level economy. The hustlers have not put up such a spirited campaign in its support. The Big Four Agenda seeks to, among other things, enhance food security, improve industrialisation and create jobs, enhance healthcare and also improve our housing situation. Why doesn't the hustler brigade support these interventions if it truly cares for the grassroots poor man and woman?

Doesn't this obviously sound more sustainable than distributing and riding on wheelbarrows for the cameras? It would definitely be more prudent for the proponents of the hustler narrative to retreat to Parliament and executive committees to legislate and formulate policies that would see to the gradual but sustainable liberation and emancipation of the marginalised groups.

Sadly, as Niccolo Machiavelli observes in The Prince, "Men are so simple of mind, and so much dominated by their immediate needs, that a deceitful man will always find plenty who are ready to be deceived".

But what is even more worrying is our stubborn refusal to learn from our own history. The political bloodletting witnessed in our country can easily be linked to real or perceived betrayal, back-stabbing, mudslinging and unorthodox political under dealings.

It speaks of incredible dishonesty and chicanery when parties' and coalition manifestos are trashed and covenants blatantly broken after every election cycle.

In the political cesspit of self-preservation, negative ethnicity, patronage and unchecked wheeler-dealing, a perceived or real betrayal of 'tribal sharks' automatically brings about ethnic suspicion and animosity whose embers are easily fanned by the same politicians into infernos.

There is an urgent need to 'sanitise' our politics, keep fidelity with national values as stipulated in our constitution.
Mr Abisai is a teacher at Chemelil Sugar Academy.
Mr Abisai is a teacher at Chemelil Sugar Academy.