A more prosperous, equitable Kenya possible, this is how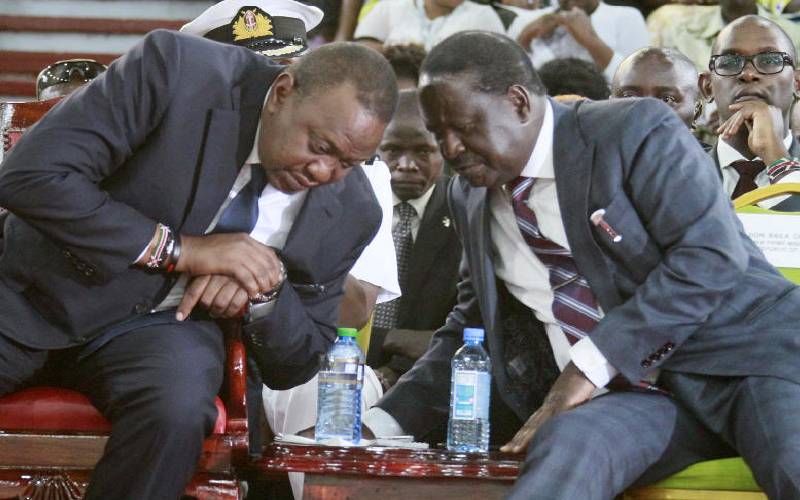 Though it feels like yesterday, more than two years have now passed since the famous handshake between President Uhuru Kenyatta and opposition leader Raila Odinga. It was a handshake watched around the world, and one that changed Kenya and how the world sees us forever.
Our history has been marred by tribalism and ethnic warfare, by a general lack of trust among different groups.
This has come not only from the bottom up but also from the top down. Over the past six or so decades, certain tribes were at a disadvantage based on who was representing them in parliament and in the executive.
While some groups kept on growing and becoming wealthier, others were relegated to the background.
This was an outcome of both systemic and institutional discrepancies that served some at the expense of others, and thus increasing social inequality.
This inequality erupted in post-election violence with each election cycle.
Now, Kenya is seen by the outside world as the pearl of East Africa, as a place of stability and prosperity, of strength and progress. But when it came to electing new leaders, there was chaos and all the hard work of the preceding years was undone.
This, among other deeply problematic issues in our society, is why we need to renew ourselves. It is why we need to work together to come up with a solution that benefits not some, but all Kenyans.
It started with a handshake. Two opposing leaders, on different sides since birth, decided that the time had arrived to bury the hatchet.
Enough baggage from previous generations. This is the 21st century, and the time has come to move on.
So Uhuru offered his hand to Raila, and he took it. This was the first proof we got that these leaders are working for the good of the people, of the whole nation - and not just for their respective tribes.
After that came the Building Bridges Initiative (BBI). It might be hard for some of us to fully understand, and many are still wondering exactly what it is. But it is something we need to trust in, and something we need to care about.
All of the information is online. For those wondering what the BBI actually entails, they can find information on the report's official website and join the dialogue.
To put it simply, it is a comprehensive report highlighting what Kenyans want: unity, stability, prosperity - whatever you want to label it.
And in more complex terms, the BBI uses the answers provided by thousands of Kenyans, representing all different tribes, religions, ages, and walks of life regarding what they want for our country's future.
Among other things, we need more harmony and understanding between each other, and this should lead to better representation in government.
The president has taken the first step and the responsibility of initiating the change from the top down.
It is a major opportunity. And for all those who purport to want Kenya to change for the better, the BBI is exactly the chance they have been searching for.
It would be foolish to reject it without understanding what it entails, or how comprehensive it is. There is too much animosity between different ethnic groups here.
Too much corruption has threatened our ability to operate as a free and fair democracy. And while the Covid-19 pandemic only adds to our problems, we have faced tougher challenges in the past. It can be overcome.
But we cannot fight it if we are not standing together. We should be embracing each other - metaphorically, of course - rather than arguing over who gets to run the show. This is a democracy, and there is only one way to run the show: together.
There will always be negative voices in the crowd, those who do not believe in the strength of unity and the power of change. Let them say what they want, for their negative energy can never overpower the energy of optimism.
And for all of us optimists in the room, all that we can do is continue to support the prospect of a prosperous Kenya, of a bright future ahead of us.
The light is already coming through the cracks in the wall, and as long as we stand together, it will only shine brighter and brighter.
-The writer is KenInvest Authority chairman