Candidates can still do their exams in January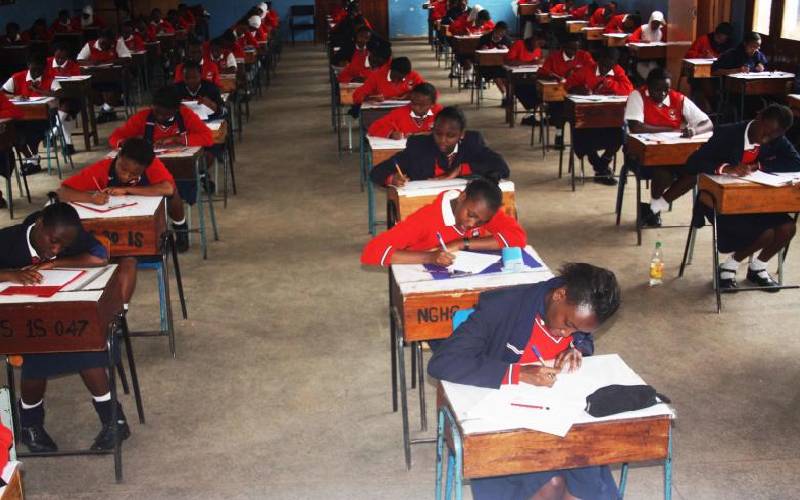 While we commend the government for cancelling this year's exams due to coronavirus, thinking outside the box can, nevertheless, enable us to find solutions to reopening schools at the earliest opportune time.
Education CS George Magoha was categorical that should circumstances change, learning institutions will reopen. As it stands, there are two main ways schools could reopen: if a vaccine is found or alternative creative ways are developed.
For a start, let us separate sentimentalism and emotionalism towards children from rational decisions based on objective and holistic evaluation of the situation at hand. I propose that with a bit of creative thinking, it is possible for Standard Eight and Form Four candidates to take their exams in January and move on to the next level in the same year.
Let me dispel some myth about social distancing first. We need to believe in our teachers and the exemplary work they do in instilling discipline in children. If only exam candidates are allowed into schools, there will be plenty of space for children to observe social distancing. Put differently, students in Form One to Three, and Primary One to Seven, will give way to teachers and candidates to profitably innovate ways of social distancing, mask wearing, playing without risk to each other and handwashing. Large classes can be conducted in school halls or dinning, for example.
And on the way to and from school, children risk breaking the containment measures for those who are not dropped and picked. However, let us also be realistic that even at home, majority of kids are freely mingling in the neighbourhoods. But the more important reason this should not be a major worry is that teachers should be able to guide kids so that from school or before and after school, they keep safe. This sounds simplistic, but there is no substitute for a teacher as a model for children in our context.
Again, let us not underestimate the power of teachers if reinforced by parents to mould children into responsible persons. Teachers are not just "parents by extension" as Jean Jack Rousseau spoke of educators, they are also biological parents. For many, a risk to a child in school is no less risk to an own child at home. Everyone knows we are in challenging times and so extra ordinary options require flexibility and responsiveness which, I believe, teachers will readily embrace.
Of course, parents and the government agree that we cannot experiment with children. This is true. Again, beyond holding children back from "experiments", we should now begin to wonder what alternatives exist as we wait for the breakthrough in medicine to enable us go back to normalcy.
We need to be cautious that the word "child or children" should not mask the ability of youngsters in class VIII and Form IV to observe containment measures better than the adults we imagine are more responsible.
Further, in the absurdity of Covid-19, we should also find reason to explore ways of "living with the coronavirus" as WHO seems to advise.
Given the willingness of the Ministry of Education to listen to proposals on the possibilities of reopening earlier, the Board of Governors (BoGs), Parents Teachers Associations, among other stakeholders, should consider the possibility of developing local protocols – preferably at a school level, to enable learning for the candidates. At this micro-level, any signs of the coronavirus in a school can quickly be arrested.
Third wave
Besides, candidates can be an example to the other children at home in taking personal responsibility against the virus spread. On their part, parents will be more engaged in the efforts to keep children and everyone else safe. This will have a ripple effect in the communities they live in as well as lead to better preparedness when schools finally reopen.
Moreover, there is a remote concern that is worthy reflecting upon. What if there is a second or even a third wave of the coronavirus spread? How do we best prepare ourselves? It is quite irresponsible for us to keep waiting for solutions from other countries in situations that allow for our own creativity and innovation.
Developing school-based and school-level containment measures will provide learning lessons to carry forward should we experience a second wave of the pandemic.
Additionally, it may not be Covid-19 in the future. In a world that risks biological warfare, new airborne diseases or other mass-infecting diseases, it is in our own interest, at a social policy level, to look for alternative ways of survival through the "veil of ignorance" as John Rawls will call it.
Dr Mokua teaches media and communication studies