Pandemic: Let us not forget ECDE learners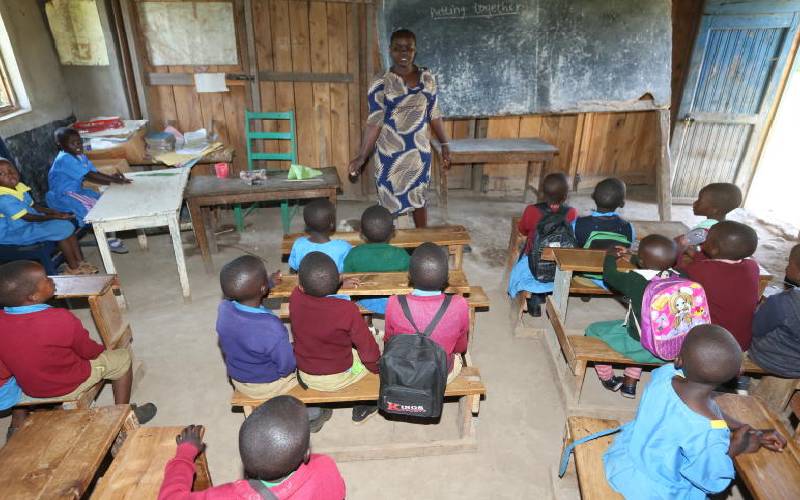 Makueni has one of the highest Early Childhood Development and Education (ECDE) enrolment in the country with 276,000 children in pre-primary I and II.
The enrolment has been on the rise since 2013 when Governor Kivutha Kibwana was first elected and the ECDE put in the hands of county governments. This growth in pupil numbers has been in tandem with the recruitment of teachers, support staff and facilities, including classrooms and learning materials. Makueni ECDE centres boast of 929 teachers, among them eight graduates.
There are 1,418 early learning centres with 3,500 classrooms in all the six constituencies.
In order to embrace the new national curriculum, 2,500 ECDE teachers have been trained on the competence-based curriculum and 27,000 books issued to all public ECDE centres. In the medium-term plan, the county has developed a school feeding programme for early childhood learners, which was expected to start in the second term of this year.
The county also boasts of having a kiddy chair for each learner and a table for four learners in all its centres. Makueni government supports co-curricula activities and its ECDE learners emerged among the best at national music festivals.
But with Covid-19 disrupting education systems across Kenya and the rest of the world, these gains are under threat. ECDE centres, just like primary and secondary schools, have been closed. While much of the focus has been on older children, it is important that we don't lose sight of early learners. Young children are especially vulnerable in times of shock, with the first five years of their lives a critical window for learning and development.
Local radio
To ensure opportunities aren't lost amidst the current crisis, Makueni has asked parents and teachers to use the KICD programmes on radio and Edu-TV. The county has also teamed up with a local radio station, Ene FM, to air programmes for early learners. However, this is no substitute for the real thing.
Makueni realises that learning begins in the earliest moments of a child's life. This is why we have committed to developing bright, colourful high-quality centres where children are free to play and sing, and which are overseen by confident, well-trained teachers. These are perfect environments for young children. By investing in ECDE, we are laying the foundations for lifelong learning.
But Covid-19 threatens this progress. ECDE across Kenya needs more funding, yet there is a real risk that the already scarce resources will, understandably, be diverted to the pandemic response. We fear that initiatives to promote better ECDE outcomes for young children will be pushed aside in the current environment. We cannot let this to happen.
Economic benefits
Without a strong focus on ECDE, we face the prospect of a lost generation of young children. The economic impact could be devastating for families. Nearly half of children across the world who attend high-quality ECDE go on to find skilled employment later in life compared to the others who are not afforded the same opportunities.
There are also immediate economic benefits. Expanding ECDE across Makueni has created around 929 paid teaching positions, opening up job opportunities for both men and women. Attending ECDE also frees up families' time, providing more scope for work. When the children attend ECDE, mothers see an increase in their average weekly work hours.
This is why we must prioritise ECDE as the country overcomes Covid-19 and looks to the future. And this is a collective effort — we all benefit when we look after our children. The many successes Makueni has achieved with ECDE were forged in this spirit. We have learnt from Meru's feeding programme and Mombasa's 'Maziwa ya Joho' and Kwale's ECDE system, which is the best in the country.
However, despite the progress we have made, Makueni still has a lot to do for early learners. We still have ECDE centres which lack adequate teaching and learning resources and facilities suitable for their learning environment. These include lack of properly ventilated classrooms, furniture suitable for children, kitchen, safe clean water, playgrounds, toilets and play material. Equally, there is still a gap in the teacher-child ratio due to high enrolment.
These are issues we were committed to overcome before Covid-19. With the virus threatening the future of our children, our resolve has only grown stronger. Working together, we can beat back Covid-19 and ensure these learners are provided with the right opportunities to thrive.
Dr Makau is a Makueni County Executive Committee Member