President Magufuli is the Donald Trump of Africa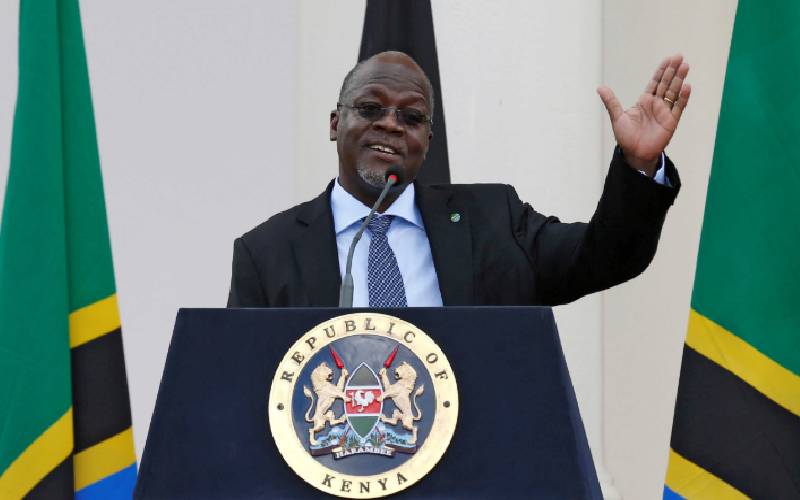 'Tis the season for emperors to be naked. The current pandemic has brought to the fore the real nature of leaders worldwide. We can truly see them plainly and openly for who they are. Interestingly, female leaders have generally done quite well in battling Covid-19.
Whether it is Mrs Merkel in Germany or Mrs Arden in New Zealand, they seem to know how to navigate the crisis with the ease only a woman can muster. This is food for thought for a country such as ours. Perhaps we need to look to the womenfolk to guide us.
But I digress, I was addressing the state of undress of world leaders and I want to focus on two. One Donald John Trump and his namesake John Pombe Magufuli. Both are presidents who were elected to make their nations great.
They are both facing elections this year and they have equally reacted to the pandemic by ignoring science and embracing the absurd.
John Magufuli recently said that a few fruits, a goat and some oil had tested positive for Covid-19. Many lauded him for 'pointing out' that the tests were faulty. Really?
If Tanzanians doubt the efficacy of the tests, then they would doubt the numbers of infections in their country. They would then also doubt the danger that Covid-19 really poses to them and finally it would justify why John refuses to take serious measures to protect the people of Tanzania.
This is a simple plot to ensure the Tanzanian economy does not suffer at a time when the president wants to be re-elected. However, although his decision to allow churches to continue operating endears him to the gullible church, this puts the general public at risk of coronavirus. A risk which he is now at pains to hide.
Zika virus
This is not the first time he is dismissing medical facts. He did the same with Zika and even fired a senior official for announcing that some Tanzanians had the Zika virus. He justified the firing by simply stating the official's claims would chase away tourists. He is playing a game from what seems to be a well rehearsed playbook.
Across the Atlantic Ocean lies another John who in three months has supervised the demise of more Americans than years of the Vietnam war. Trump is accused of ignoring warnings, failing to procure PPE's, masks, testing kits and ventilators in time to stem the spread effects of the pandemic.
His predictions that the virus was like the flu and that it would disappear by April have fallen flat. He did not stop there; he continued to market chloroquine as a wonder drug and suggested that doctors look at how people could be injected with bleach or sunlight.
Once again I wondered why a leader with access to the best brains in the world would be ignorant and careless with people's lives.
terrifying reality
The answer in both cases is that these leaders are obsessed with elections and not people. They worship the vote more than the voter and anything done to obtain the vote is worth it. Their self absorbed perception of politics is a terrifying reality to behold.
Not only are they a danger to public health but they both use a horrible weapon to advance their political agenda: The church. They use faith as a shield from reality. They convince the faithful that somehow their faith should defeat basic logic.
They forget that Jesus himself twice ran away from mobs that wanted to kill Him. It is because of politics and an election that they want the churches and cities to remain open; it is not for the people.
Even worse Trump is considered a chosen one by the evangelicals in the USA. The evangelicals decided to ignore his corruption, racism, nepotism and science-denialism simply because he appeared to support them.
The churches have blindly embraced Trump and that has taken his election from the realm of common sense to the realm of blind endless faith. His electorate can't be moved, even if their faith in him cost them their lives.
I used to think that all a country needed was better systems, then anyone could lead it. But the two Johns have made me doubt this. CCM and Tanzania as a whole have shown us great political longevity. They have had more peaceful transitions of power than any other East African country. Yet that stability cannot stand against the man in power.
Even worse, Donald has bent American institutions and traditions to his will. He breaks traditions and laws with reckless abandon and to date he is yet to receive even a slap on the wrist. The nakedness of these and many other leaders should serve as a warning to our nation.
We can't keep electing political jokes into power simply because we have blind faith in what our preacher has said is the chosen one.
Mr Bichachi is a communications consultant