We must rethink how we conduct funerals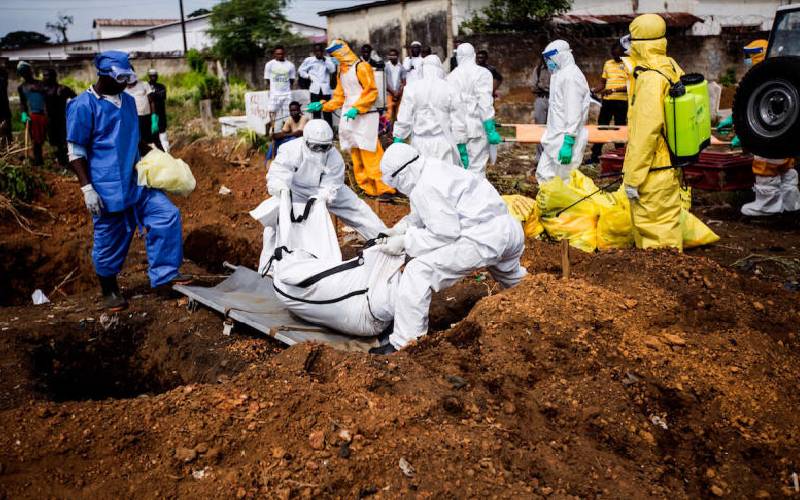 Over 100,000 people worldwide have succumbed to coronavirus. Their families have had to bear great stress as their loved ones are buried outside the normal cultural and spiritual traditions of giving deserving send-offs to the deceased.
But even people who have passed on from other illnesses during the lockdown have had to be buried under emergency guidelines. The number of people attending a funeral in Kenya is limited to 15. A great Kenyan, Bishop Emeritus Ndingi Mwana a'Nzeki, was laid to rest by less than 100 people in attendance. He would have otherwise been buried by thousands of mourners in an elaborate ceremony involving government and Church leaders.
This raises a fundamental question: What are funerals for? The experiences we have seen and read over in the media offer revealing insights.
For those in the Christian tradition, last week was a holy week that marks the time Jesus Christ was accused, arrested and convicted in a court of law. By a gesture of 'washing hands', Pontius Pilate condemned an innocent man to death.
The funeral of Jesus Christ was conducted outside the normal cultural and spiritual practice of the time. He was condemned as a criminal hence deserving the cruelest of deaths. He was secretly brought down the cross for burial by Joseph of Arimathea. Another man who followed Jesus in secret, Nichodemus, 'attended the funeral'. A few women also followed up the proceeding of the funeral all the way to the tomb where he was buried.
Just as the people who have died from the coronavirus are buried under hostile circumstances that we have no control over, Jesus died in circumstances that his followers had no control over, and so could not give him a deserving burial.
In both cases, and of interest in this article, the main focus is not so much on who is being buried but the grief families, relatives and friends go through for, first, losing a loved one and second, going through a funeral process with its own complexities and stresses.
Funerals are meant to give last respects to the deceased. Since people are deeply interconnected by kinship or friendships, death does not suddenly cut off the connections. It is in fact the very reason people grieve, sometimes wailing uncontrollably for hours. The realisation that a separation impossible to repair has happened is bitter to swallow.
Unlike in the case of Jesus, who came back in a series of apparitions to comfort his followers that all was not lost; that death is not the end of life, that even unto death we should never grieve as if life stops at death – which in itself requires not reason but 'a leap of faith' to understand – our loved ones do not come back to wipe away our tears. We must bring ourselves to a transcendental level to know and believe that there is life after death.
Grief helps us be in touch with reality; that not science, reason, our monies or misery will hold us or our loved ones from facing death. It is always about when, not if. Most people dread the hour of death. Jesus cried on the cross saying, "It is finished".
What then is a funeral for? Clearly, it is a moment of accompanying the people pained by their loss of their loved ones. The family comes together with relatives and friends to face that dark moment while looking at the bigger picture, that there is life after death as our faith in ancestors teaches us, and our faith in Almighty God.
It is quite insensitive then, to turn such moments into forums for anything than feeling and being with those in grief. The dead must be treated with respect as well lest families suffer double tragedy.
Shamefully, funerals have been turned into forums for selling spiritual accompaniment. Pastors demand payment for accompanying families in grief. Neighbours inflict pain to families by creating barriers to peaceful send-offs of loved ones while others literally rejoice in the pain of those grieving.
We need to rethink our culture of conducting funerals. A few experiences from those who have unfortunately lost loved ones during this coronavirus lockdown show that we have embellished funerals to meaninglessness.
Funerals can be cheaper (they are not eateries!), timely (take the shortest time practically possible to bury, supportive (don't commercialise your support) and life giving (ease the burden of those grieving).
The dramatisation of funerals where people compete in drawing crowds (not necessarily mourners) absolutely undermines our own dignity – those of us still living. The essence of funerals is to console.
Dr Mokua lectures on Media and Communications Studies