China able to deal with Hong Kong protests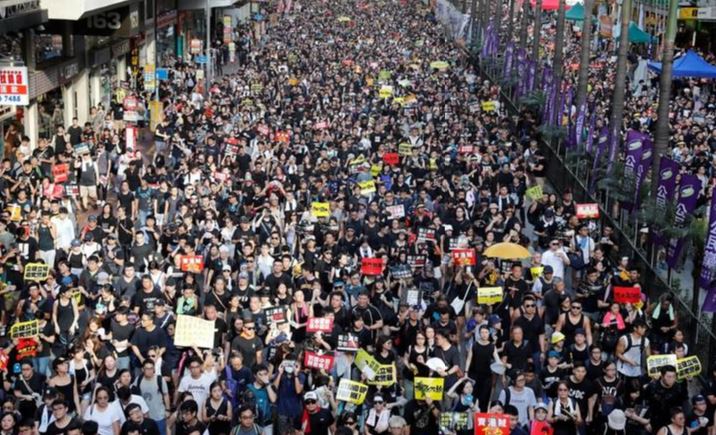 The signing of the Hong Kong Human Rights and Democracy Act by President Donald Trump is seen as a major violation and interference of China's internal affairs, given the fact that the Special Administrative Region is part of the People's Republic of China.
In inking the new law, it means a US president will be required to annually review the city's favorable trade status with powers to revoke it if the semi-autonomous territory's freedoms are quashed.
The United States is surely spoiling for a fight with China if this latest development is anything to go by.
I have been keenly following developments in Hong Kong, and this new action came to a surprise to many given the two world's largest economies were yet to finalize phase one of the protracted trade deal.
The protests in Hong Kong that started in June were sparked by a proposed law that would have allowed extradition to mainland China, but they later transformed into anti-government violent demonstrations demanding greater democracy and universal suffrage.
These are the issues China can deal with. They do not call for external solutions from any other country because this only serves to aggravate the situation.
Describing President Trump's action as 'unreasonable', China has swiftly retaliated and decided to suspend reviewing applications for US warships to Hong Kong for a 'rest and recover' mission and has vowed to take any necessary steps to uphold Hong Kong's stability and prosperity in defending the sovereignty of the mainland.
As the saying goes, when two stallions fight, it is the grass that suffers.
The people of Hong Kong stand to suffer more as a result of the hand line stands taken by the two countries and begs the question of who will blink first.
With a firm policy of non-interference of other states' affairs across the world, China should, in my view, be left to deal with its affairs, including in Hong Kong because any form of interference is not making matters any better, especially to the residents and international trade.
The pro-democracy protests have led to a fall in retail sales by 24.3 per cent in October after the previous month's 18.2 per cent. Economic analysts say it was the ninth consecutive month of annual growth in what has been attributed to the anti-government violent protests and the China-US trade tensions.
The Hong Kong economy is recording new lows after tourists kept off due to violent incidents reported at the airport and traffic congestions in the city. Visitors from mainland China fell by 45.9 per cent.
The drop in tourism by double digits at 43.7 per cent in October from last year to 3.31 million, is a major blow to the city's economy which heavily relies on the sector for economic prosperity.
Available statistics show that employment rates in Hong Kong fell by 15% affecting more than 60,000 people with many more set to be affected if the situation is not arrested on time.
Last month, there was a 6 per cent slump in employment in both catering and retail services. Experts have said this affects at least 35,000 people who are, themselves, consumers.
With no jobs for this group for them to make ends meet, it means more pressure will be exerted on the retail market in Hong Kong and may force shops to close down or relocate to other cities with favorable business conditions.
Already, the government has warned the city is expected to plunge into its first annual recession in a decade, with Financial Secretary Paul Chan projecting a budget deficit in 15 years.
The reality of these fears are evidenced by the fall of Hong Kong's Hang Seng (HSI) by as much as 1.4%
China has said its measures to arrest the situation and save Hong Kong are hampered by external interference and has demanded an end to enable it to deal with the matter to help rescue that economy that is important to global trade.