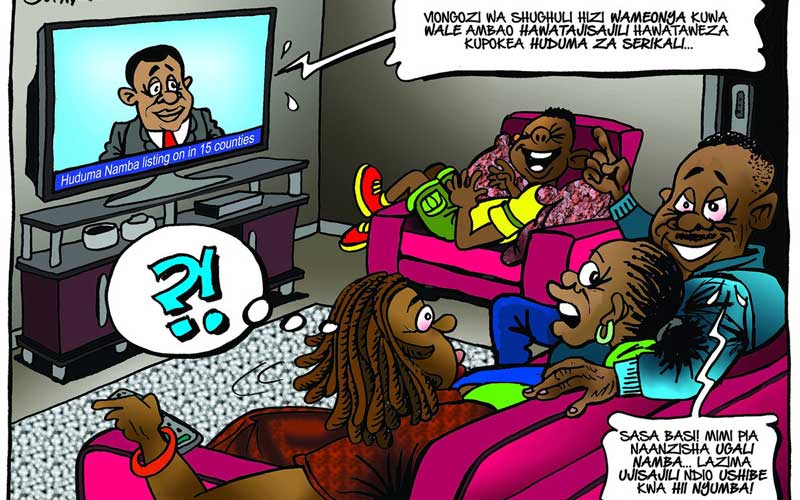 John F Kennedy, the 35th President of the United States, once said a man may die, nations may rise and fall but ideas live on.
In his own estimation, a people who don't act in the best interest of their country need not be reminded of their limitations in life, real or imagined. Only time, he argued, would judge them. The struggle to make Kenya a better place continues.
There's no doubt that Kenyans toil every day to make their country a beautiful place and a nation of all seasons. Indeed, the World Happiness Report 2019 ranks Kenya among the most optimistic nations.
Like any other developing nation, we face teething political, social and economic challenges. But we are rebuffing these challenges with hope and ability to see opportunities in them.
According to the UN, 42 per cent of Kenyans live below the poverty line and combating poverty by 2030 may be elusive unless radical measures are sought. As President Uhuru Kenyatta embarks on the last leg of his presidency, the Jubilee administration is determined to implement each and every of its pledges, the challenges notwithstanding. Skeptics should doubt it no more.
Cynics have predicted the death of Jubilee before the 2022 elections. I dare say this will not happen. The ideals on which the behemoth of Jubilee Party was founded don't provide for parochial interests.
Jubilee was formed to unite all Kenyans while pursuing an aggressive agenda to ensure plenty within our borders. The health of a nation depends on oneness of its people.
Since 2013, Jubilee has transformed the country on many fronts. Not even the 2022 debate will jolt the Jubilee agenda. Under free maternity, the number of women seeking services has risen by 50 per cent, government records are being digitised under Huduma Namba not to mention the ambitious infrastructure projects being undertaken.
The recent opening of the JKIA terminal 2 has grown passenger numbers by 200 per cent from 2.5 million to 7.5 million.
Thousands of homes have been connected to electricity and some 325 megawatts of power injected into the national grid in the last two years. Roads and the SGR have added the much needed impetus to economic expansion.
Last year, Kenya's economy grew by 6.3 per cent buoyed by an impressive agricultural and manufacturing sectors, and in the long-term, the country's GDP annual growth rate is projected to trend around 6.00 per cent in 2020.
The quest for a better economy, jobs, better infrastructure, security and equity must not be lost to unhealthy political competition. As the Jubilee leadership, we know all too well that the nation, having trusted us with leadership, is counting on us to make a difference.
However, the success story of the Asian tigers should lead us into one question: How did they do it? The answer is one: They sacrificed. This is exactly what we must do to take this country to the next level. Jubilee is vigilant and ready to lead this transformation.
The recently introduced housing levy has for instance encountered serious opposition from employers as well as civil groups.
How would we grow our nation if we aren't ready to make the hard choices? The infrastructure and freedoms we enjoy today are as a result of the sacrifices that those who came before us made.
President Kenyatta and his deputy William Ruto and the entire Jubilee leadership have fixed their eyes on the prize.
The notion that Jubilee is divided is unfounded. When members freely speak, it only mirrors the level of maturity and openness within the coalition which allows for free speech. The Jubilee leadership in Parliament is prepared for the work ahead.
However, Jubilee's delivery of its agenda will depend on support from institutions and citizens. This is the time to build bridges and extend olive branches. A nation can never be built through empty rhetoric.
While we encourage cooperation, we must abhor those out to entrench divisions through improbable political pursuits.
-The writer is National Assembly Majority Leader Twitter: @HonAdenDuale