When the DP preaches negative ethnicity there is every reason to worry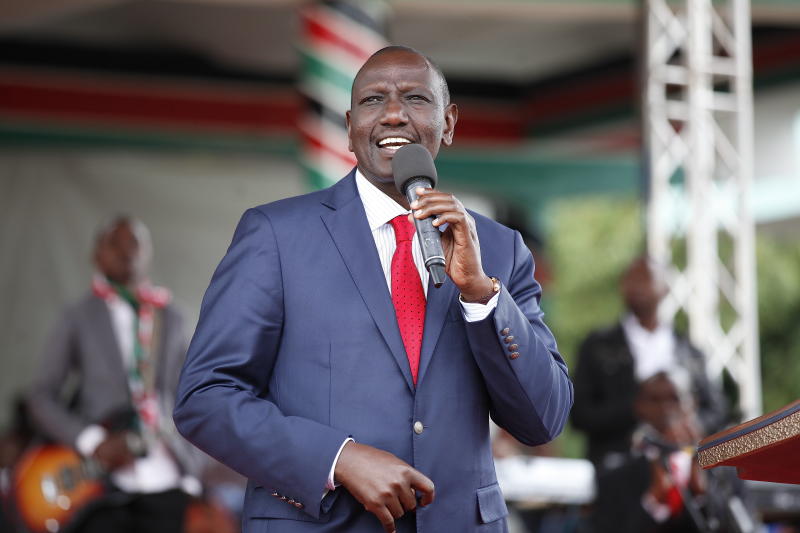 It is a wonder Deputy President William Ruto is still in the ring throwing jabs after all the drubbing he has received lately. Even so, the strain and concussion are beginning to manifest. Scientists have a pretty sounding name for the condition, but I won't mention it here.
Symptomatic of this condition are angry outbursts, irritability and frustration over small matters, feelings of worthlessness or guilt, fixation with past failures or self-blame, anxiety, agitation or restlessness.
If Ruto's deportment is anything to go by, he is restless and anxious about his 2022 prospects. He has a fixation with Raila Odinga over petty issues and is frustrated by the seeming ease with which the latter throws the spanner in the works of his meticulous political projections.
Ruto looks irritable. His recent pronouncement stereotyping a whole community as thuggish propagated negative ethnicity, betrayed his anguished soul and his feeling of insecurity despite a public façade of confidence. One does not need a PhD degree or to be a rocket scientist to get the inference in Ruto's remarks.
It was unfortunate as it was uncalled for, especially from one who must win the trust of all Kenyans to realise his 2022 dream. Where Ruto should be judicious, he has thrown caution to the wind; the clearest indicator he is resigned to a fate he knows does not favour him.
Kenyan communities
That Antony Kanagi, alias Wanugu and Edward Shimoli were once the most wanted criminals does not make members of the communities they hailed from criminals. Members of the community from which those blamed for torching the Kiambaa church in Eldoret in 2008 do not become arsonists by tribe relation.
Ruto should desist from pinning the act of a few incensed people who uprooted a railway line while protesting government excesses on a whole community. And given that the area where the rail was uprooted in 2008 is an informal settlement populated by all Kenyan communities, what right has Ruto to blame a single community?
Moreover, it was in support of Ruto's team then that the rail was damaged. This belated moralistic attitude stinks. Ruto's pronouncements are pure hate speech for which he should be taken to task, but the National Cohesion and Integration Commission, a leech by any other name, doesn't have the spine to take him on.
From my perspective, Ruto exhibits all the signs of a bad leader, in the line of Joseph Stalin with whom he shares similarities, both in private life and political career progression. While Ruto professes a deeply Christian background, Stalin started out as a young dedicated Christian intent on becoming a priest.
Generous contributions
It was while studying priesthood that Stalin was exposed to ideologies that affected his view of life. He is said to have had a liking of Charles Darwin's Origin of species. As a student, Stalin was very bright but reveled in controversy, which earned him the monikers 'priest of atheism' and 'priest of communism'. If anybody says Ruto is not bright, they would be delusional; Ruto is a bright spark, alright.
Later, having become an atheist, Stalin entertained the view that religion was being used to sanitise the oppression of the masses by the ruling class because religion would tranquilize their frustrations, making them endure and in the process, enable the ruling class to exploit them a lot more.
The coinage 'high priest of poverty' is the brain child of Ruto; one he uses to derogatively refer to billionaire Odinga, and by extension, Odinga's community. It is what Stalin saw in religion that Ruto exploits with his generous contributions to churches, even as the source of the money is questioned far and wide.
By contributing to churches in the vainglorious belief he is investing in heaven, it wouldn't be far off the mark to surmise that Ruto seeks absolution from any misdeeds apportioned to him. Given the confusion among the clergy, the ploy appeared to be working until the Catholic and Anglican Churches saw through it.
Likeable as he was in the beginning; as much as our Ruto was, Stalin acquired a fierce reputation after he became the General Secretary of the Communist Party of the Soviet Union and premier in 1941. A decade later, he had murdered millions. Ruto is Jubilees deputy president, a very powerful post from which he hopes to catapult himself to the presidency. Will he succeed?
Viewed as one of the 20th century's most notable leaders, Stalin was 'a subject of pervasive personality cult' within the Marxist movement that worshiped him as a champion of socialism.
I suspect Ruto is desirous of becoming a personality cult in Kenyan politics as the champion of hustlers. The vehemence of his lieutenants in defending his turf attests to this.