Slow death of Uchumi and Nakumatt is no accident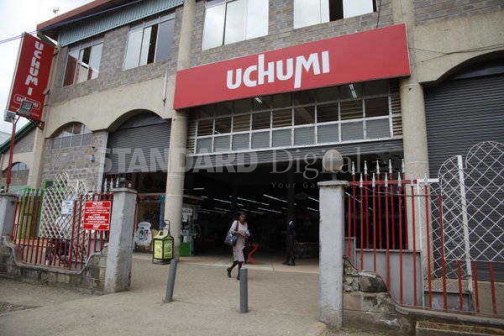 There are so many activities on the streets of Nairobi that one rarely notices some of them. We are often so engrossed in our own activities or thoughts that we often wait for the media reports to give us flashback on what we saw but never gave a thought.
Last week, my attention was drawn to trucks parked outside Uchumi Supermarket on Monrovia Street behind University Way, near Anniversary Towers.
Workers were dismantling shelves and loading whatever remained of them into waiting lorries, signalling the closure of the once flourishing outlet.
I would love to know their destination. I watched and took a photo.
From the same street about 300 metres away, Nakumatt Lifestyle closed last year. Shoppers from the University of Nairobi and its environs now have to walk all the way to Kenyatta Avenue.
High-rise buildings
The closure of those two outlets left the upper part of Central Business District (CBD) without a supermarket.
Quite surprising, considering the number of high-rise buildings, the universities on the University Way and other businesses. It seems to me the closure of these supermarket outlets has nothing to do with the demand side or consumers.
Is there something unusual going on in Kenya's retail sector, which is one of the Vision 2030 anchors? For Uchumi, we could easily suggest that the Government's involvement slows down decision-making and reduces competitiveness.
But what of Nakumatt, a private entity? Kenyans' consumption habits have not shifted dramatically to warrant the slow death of two leading supermarkets.
Online shopping is too nascent to threaten supermarkets. So what is killing our two biggest supermarkets, slowly?
Why can't they be just sold off outright? One possible explanation is that Kenya's retail sector is shaking out after the proliferation of supermarkets.
It could be that Kenya is saturated with supermarkets and the closure is a natural correction, a term borrowed from the stock market where prices fall because of artificially high prices from a hype.
This theory is debunked by the replacement of some of the closed supermarket outlets with new ones. Uchumi at Westland's Square opposite The Mall was replaced by Tuskys while Uchumi Sarit was replaced by Carrefour.
One could have thought this sector is falling victim to winds of globalisation with Massmart, Carrefour and Choppies taking a share of the Kenyan market.
But wait a minute, Quickmatt, Cleanshelf, Maathai and others are blossoming too.
The problem with two Kenyan brands is positioning. They were squeezed from two sides. Let me explain.
The upcoming supermarkets have focused on small towns where they grow then come to the city, just like Nakumatt.
Did I see Maathai Supermarket in downtown Nairobi?
They focus on the CBD where the masses shop frequently but in small quantities. Vibrant supermarkets like Naivas or Tuskys are near bus stations.
Locating supermarkets in the CBD might be glamorous in appearance but it is not in the best interest of your bottom line. It is possible that the location of Nakumatt Lifestyle and Uchumi on Monrovia Street played a role in their demise.
From the top, the two Kenyan brands have to compete with new malls targeting the leafy suburbs and the "pretenders". These malls have taken a chunk of shoppers from old supermarkets. The younger generation and the so-called hustlers also want to get the feel of shopping in the malls. This can be explained through the pedestrian gates. Add the popularity of cars; you no longer need a supermarket next door for the upper, middle class and the "pretenders."
Squeezed in between, Uchumi and its peers are finding the going tough. This, coupled with the decision-making constraints resulting from ownership structures, where either the family is reluctant to let go or the government takes too long to make decisions.
Recall someone who once suggested that Nakumatt should float its shares on the Nairobi Securities Exchange?
Conspiracy theorists have been working too, claiming the slow death of these supermarkets is calculated to create room for a takeover of the local retail sector by foreign investors.
The "outsiders" now have a field day to flex their financial muscles while preying on Kenyans' timidity that has resulted from high octane politics, canned pessimism and shocks like terrorism.
It's personal
What we can't dispute is that Kenya's retail market is in a state of flux, a shakeout stage. New players will emerge out of this flux but in unexpected ways. My hunch is that like in banking, the key players in the retail sector will be local supermarkets.
Meanwhile, the Uchumi branch next to University of Nairobi's main campus is now closed and so is the one at Sarit where some cashiers knew me by name. I wonder where they are today.
The closure of the two branches is personal to me; I teach and write about the market economy and capitalism. Now I feel them almost emotionally and in reality.
It seems that after three decades of market economy and capitalism, we still have not fully internalised what they all mean beyond textbooks and diatribe from Karl Marx.
We may have to learn the hard way.
- The writer teaches at the University of Nairobi.