Rogue motorists get away because of poor traffic law enforcement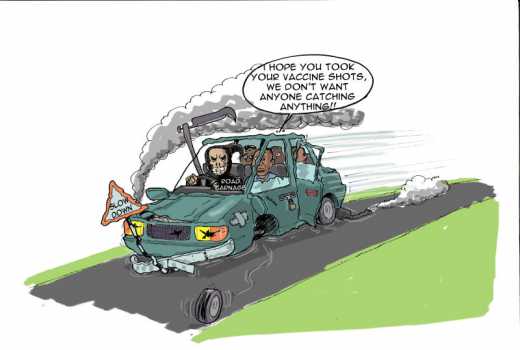 Even the most optimistic analysis of safety on our roads will lead you to one inescapable conclusion: That the current situation is untenable unless we have a death wish to perish as a nation. Our approach to road safety is reactive rather than proactive, knee-jerk rather than well-thought out. For instance, erecting speed bumps to manage speeding is akin to using reinforced steel and concrete walls to manage robberies.
Speed bumps, like reinforced steel and concrete walls is evidence of an unforgiveable gap in law enforcement and crime management! In 2009, former President Kibaki described traffic law enforcement as "very lousy" during a conference held to discuss road safety at the Bomas of Kenya in Nairobi. He directed relevant agencies to sort out this mess once and for all. In a simplistic shoot-from-the-hip approach, the solution was found to be a new law and a new agency, the National Transport Safety Authority (NTSA). And with the latest spate of accidents, talk of new laws, new agencies and new individuals is once again in the air.
However, for those armed with basic knowledge in law enforcement, we know road safety is a direct product of diligent and informed enforcement of driving standards as encoded in road traffic laws and regulations. Indeed, the sole objective of everything about roads from design to traffic regulations is moving people and goods safely by the simple act of driving with due care to all road users. Unfortunately, there is just very little driving. Refusal to drive is the most widely committed crime in Kenya, so widely committed it has no social deviants. It affects all types and classes of drivers. We have plenty of gear, steering wheel, accelerator and brake pad operators on our roads but few drivers.
Unfortunately, roads are a shared facility and the absence of driving in one negates the presence of driving in all others. New effort should therefore be focused on ensuring a semblance of driving on our roads by deliberately and if need be forcefully creating a critical mass of conscientious drivers. When I attended a basic road traffic management and accident reconstruction course in Kiganjo some two or so decades ago, driving was defined as a "person of sound physical and mental health taking actual physical control of a motor vehicle." Note: the opposite of a sound mind is mad, a mad person cannot exercise actual physical control of himself leave alone a motor vehicle. Corporal Wanjohi (then instructor) placed one caveat on this definition: All driving is predicated upon the driver's appreciation of the nature of the road, the amount of traffic and the condition of the vehicle.
This definition and the caveat therein makes the only genuine road accidents those precipitated by situations where either the condition of the vehicle or the road changes suddenly without the driver being conscious of it. Those are by nature universal, few and far between; they are highly reduced when drivers exercise due diligence and vehicles are subjected to the prescribed service. A driver who is unable to keep on his lane, drops and picks passengers on the middle of the road or is incapable of responding appropriately to the cautionary, regulatory and safety signs prominently displayed on the road is not possessed of the required level of intelligence to appreciate the implications and therefore mentally unfit to drive on a public road and must be removed as an emergency and not after he has killed people! His license should be cancelled and his details placed on a public platform so that whoever allows him to drive can be punished by law.
Losses control
Even the 1964 independence Traffic Act had explicit provisions to enforce that, nobody needs to procure digital driving licenses or hold a dozen conferences on the subject. We just need to act. One wishing to test this hypothesis just needs to drive along Thika road. This is by all means one of the best designed roads in South of the Sahara complete with service roads, laybys and CCTV surveillance. Yet mad drivers in the name of matatus stop to drop and pick everywhere and anywhere without a care in this world thus making it one of the most irritating places on earth to drive.
The dictionary meaning of the adjective actual includes true or real. How then do you determine whether one is actually, truly or really driving? Up to the time when self-driven vehicles take over from human driven once, automotive engineering and road design will continue expending much thought on control of these thrilling machines to achieve relatively predictable safety standards. Actual physical control of a motor vehicle is that situation where a driver combines the nature of the road, the amount of traffic and the type and condition of motor vehicles to ensure the vehicle cannot do anything he has not consciously and deliberately caused it to do, including ramming an oncoming trailer. It follows that a competent driver can drive a defective vehicle from Mombasa to Kisumu without a scratch on himself or any other road user. A driver who loses control of his vehicle cannot claim to have been driving unless there is evidence that he was denied the physical control by unforeseeable factors beyond his control. Getting fatigued, overtaking on blind corners, overlapping, etc. do not constitute unforeseeable factors beyond human control. These are acts in the realm of premeditated murder. Pure and simple.
Drivers who must be controlled by road bumps, regulation of driving hours and speed governors cannot be termed as drivers regardless of their capability to steer vehicles and engage gears. That is why there no road bumps in Tokyo, Dubai, London, Moscow, Los Angeles etc.
Instead of engaging in musical chair games of changing laws, introducing new driving licences, creating new agencies etc, the solution is simple; agencies involved in traffic management must urgently enhance programmes to train the mind of every law enforcement officer on what the highway code is intended to achieve and act simultaneously to remove mad people purporting to be drivers from our roads. This is the simple solution that will solve the complex problem of road carnage. Finally: Humble, quiet but firm enforcement of basic human capital management practices can ensure that the workforce delivers: offenders willing to offer bribes notwithstanding.
- Mr Kiraithe is the Government Spokesman