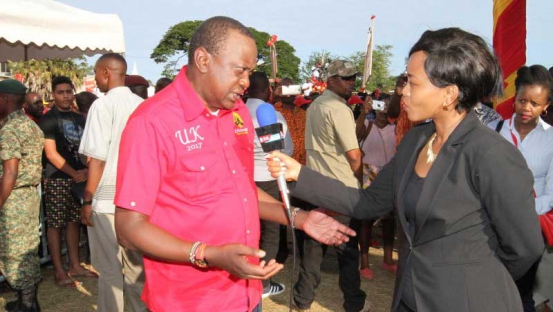 Uhuru Kenyatta looks set for a projected 54 per cent first round win to retain his seat as President of the Republic of Kenya come the August 8th presidential election.
This will represent a significant improvement on his 2013 performance when he garnered 50.51 per cent of the vote against 43.7 per cent for his closest challenger Raila Odinga of the then CORD who came a close second.
Whereas Kenyatta has run a successful campaign largely anchored upon a solid and transformative first-term in office during which time Kenya has seen significant and unprecedented investments in infrastructure with key milestones in the transport, energy and communications sector and social investments in education, social security, health and youth affairs; it is Kenya's unique tribal engineering that looks set to deliver the decisive vote on August 8 in a country where voting is still largely tribal rather than issue-based.
All indicators are that tribal voting patterns and loyalties will be the most significant determinant of how regions will vote on August 8. Kenyans will not witness any loyalty shifts from the ethnic centre among the major tribes that traditionally determine the occupancy of State House.
Central Kenya, Nyanza, Rift Valley, Eastern, Western, Coast and North Eastern have not had any compelling reason to shift from their 2013 voting patterns.
Our elections are still largely a tribal census whose participants boil down to who mobilised their ethnic kinsmen more successfully to register and subsequently turn out en-masse to vote since voter registration was not conducted based on issue groups but ethnic groups.
In 1992, President Moi famously predicted this tribal voting pattern at the onset of agitation for multi-partism in Kenya.
"I have refused to allow multiparty democracy in Kenya because it will divide Kenyans along tribal lines. Vyama vingi vitaleta ukabila Kenya. Siku moja mtakubali haya maneno yangu." (Many parties will entrench ethnic-based politics in Kenya. One day you will see that I was right)," he said. Moi has now been fully vindicated.
There may be slight but not significant variations from 2013. Voter turnout may vary slightly due to emotions raised during the campaigns pegged on issues such as 'the last bullet' and whether Kenyatta would become the first one-term President or even William Ruto's 2022 ambitions.
But nothing significant has happened between March 4, 2013 to date to significantly change the loyalty patterns to the extent of influencing the outcomes of the election from 2013.
Indeed, it is the internal dynamics of voters that have since died and been excluded from the register, those turning eighteen years and registering as new voters, previously legible but unregistered voters and voter-turnout within the traditional strongholds that will slightly vary outcomes for each of the leading coalitions and their respective presidential candidates.
Based on Kenya's current voter listing when translated into tribal voting blocs, the Jubilee coalition has an overwhelming advantage against the NASA coalition. If Jubilee's strongholds comprising the Kikuyu (4.6 million), Kalenjin (2.4 million), Meru (970,000), Embu (233,000) Mbeere (107,000) and Tharaka (91,000) were to give Jubilee 90 per cent of their vote; this would build a solid starting base of approximately 7.6 million votes.
Based on 2013 patterns; attainable and realistic hypothesis; If the ruling coalition was to further garner 60 per cent from Northern Kenya (370,000), 50 per cent from Kuria (45,000), 50 per cent from the Samburu and Borana (92,000), 30 per cent from western Kenya (800,000), 20 per cent from Kamba's (423,000), 50 per cent from Maasai (182,000), 40 per cent from Turkanas (99,000), 40 per cent from Kisiis (470,000), 30 per cent from Taitas (172,000) and another 50 per cent from the other smaller communities comprising Kenyan Asians, Europeans, Ndorobos, Njemps and others estimated at approximately 122,000, their vote tally would total approximately 10.6 million Votes representing approximately 54 per cent of the vote.
This is significant because based on approximately 19.6 million registered voters, this would surpass the 50 per cent+1 threshold of approximately 9.8 million votes thus guaranteeing Jubilee an outright round-one win.
Enhance service delivery
Conversely, if NASA's traditional strongholds of Luo (2.2 million) would accord them 95 per cent of the vote totaling approximately 2 million votes, Luhya (2.7 million) accords NASA 70 per cent totaling 1.9 million, Abasuba 67,000 (95 per cent), Kamba 1.7 million (80 per cent), Mijikenda 586,000 (70 per cent) this would provide the NASA presidential candidate with a starting base of approximately 6.2 million votes.
If additionally, NASA garnered Kisii 700,000 (60 per cent), Turkana 148,000 (60 per cent), Taita 120,000 (60 per cent), Maasai 182,000 (50 per cent), Kuria 45,000 (50 per cent), Samburu and Borana 92,000 (50 per cent), Northern Kenya 245,000 (40 per cent), average 8 per cent from Central totaling 356,000, average 20 per cent from Kalenjin totaling 463,000 and approximately 122,000 from other smaller tribes, NASA would garner approximately 1.8 million additional votes. This would bring their tally to approximately 8.8 million votes representing approximately 46 per cent of the vote.
While these figures represent total registered voters, it is noteworthy that Jubilee coalition had superior voter turnout in the 2013 elections at 93 per cent against the opposition's 82 per cent; a trend likely to be upheld and this would therefore further increase their proportionate percentage tally. Statistics don't lie. Emotions aside, these are the empirical facts of the case. So, all factors constant Kenyatta is winning the August 8 presidential election in the first round. He can as well now go ahead and prepare his acceptance speech and think of how to re-engineer his Cabinet to enhance service delivery to Kenyans.
Dr Misigo is a Senior Lecturer at the University of Nairobi, History Department