Opinion: Bethuel Kiplagat has left peace imprints on sands of time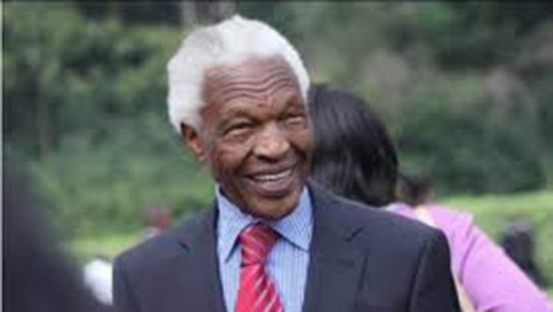 This is a very sad time for our country. We mourn the passing on of Ambassador Bethuel Kiplagat, an eminent leader and consummate diplomat in our country and continent. I am privileged to have interacted extensively with Kiplagat and to have acquired first-hand professional insights through his tireless efforts to raise Kenya's profile internationally and to champion the noble cause of peace in our nation, the East African Community and Africa as a whole.
My initial contact with Kiplagat was at the Foreign Ministry where he had an outstanding 13 years career from 1978 to 1991. He served as Kenya's Ambassador to France (1978-1981), High Commissioner to the United Kingdom (1981-1983), and Permanent Secretary in the Ministry of Foreign Affairs and International Co-operation between 1983 and 1991.
His tenure at the ministry coincided with the so-called 'lost decade' for Africa - a period in which there was widespread misconceptions about Africa; then regarded as a hopeless continent. Navigating International Relations at this time was therefore a considerable challenge, demanding creativity, hard work and sufficient enterprise. Unmatched in his creativity, insight and drive, Kiplagat was equal to the task. A dynamic leader and team worker, he was instrumental in the introduction of strategic approaches and fresh perspectives in the conduct of Kenya's diplomatic relations. This ushered in a new assertive and progressive profile for Kenya on the world stage.
An effective negotiator, he also had an impressive career as a peacemaker who contributed immensely to peace initiatives and processes in Africa. He served in various peace engagements in Africa including as Kenya's Special Envoy to the Somalia Peace Process from 2003 to 2005; chairman of the Igad Technical Committee on Somali National Reconciliation Conference and resource person to the Igad Peace Process for Sudan and adviser to Sudanese civil society on conflict resolution.
His firm conviction about the role of Kenya in the welfare of her neighbours and in alleviating war and human suffering has been a mark of the country's steady peace and security engagements; including as a significant player within the United Nations Peacekeeping Missions.
Kiplagat was also involved in peace negotiations in Ethiopia (1988-1992), Mozambique (1988-1992), and Uganda (1985-1986). He later founded the Africa Peace Forum, a not-for-profit initiative facilitating research and advocacy on areas of peace and security. He was a practical visionary and peace-seeking leader whose contribution in the peace processes constitutes some of his enduring imprints on the sands of time.
To be sure, Kiplagat has contributed immensely to Kenya's global reputation for peace making in Africa. As former colleague, we at the Ministry of Foreign Affairs continue to uphold the proud tradition that he and other predecessors have bequeathed on us. This is the only way we can best honour those who have gone before us for the distinguished service they rendered. I pray for God's comfort and fortitude upon his family, friends and colleagues during this sad period. May his soul rest in everlasting peace.
Ambassador Mohamed is the Foreign Affairs Cabinet Secretary. [email protected]