LAPSSET transforming lives in North Eastern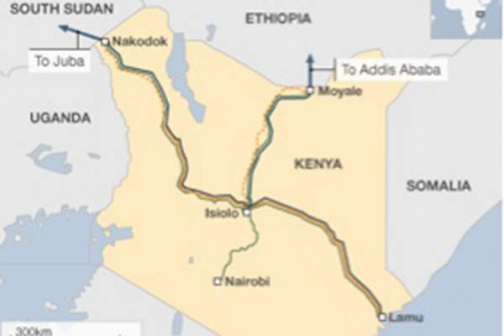 A little over a decade ago, a classmate in High School described how the road to his Moyale home looked like. In his words, there were only pockets of hamlets across the not so road-looking path they traveled on from Isiolo to Moyale.
He looked the part as well; you could see the dust on his silky hair every time he walked into the school gates from home, and he needed whole day's rest to wear off the tiresome 4 day journey he had just come from. Last month however, a trip to Isiolo painted a totally different picture for me; Tangles of cranes, shipping containers, and snaking lines of trucks waiting to load and unload cargo. Isiolo came alive in my eyes. Whispers from the local folk made me understand that what was initially a three day journey from Isiolo to Moyale now took just 10 hours.
Of course the script of any new tarmacked road should read like the short tale above, some tangible progress. But that is just a pencil mark in a fully painted canvas art; the benefits of the LAPSSET project could be far beyond what we have seen hitherto. According a progress report by the LAPSSET Corridor Development Authority on the project so far, Isiolo to Moyale constitutes a 508km corridor. You can imagine the immediate benefits of such a road already: Transport cost for goods and services have reduced significantly; No more wayside sleep overs; wear and tear and other vehicle maintenance cost has reduced, which means transport has changed from lorries to buses, public service vehicles and even personal cars. Put all these together and it screams one point: they're in business.
Isiolo town was made the headquarters of the northern frontier counties by the British East Africa Protectorate in 1922. Since then, nothing significant has come from this northern frontier settlement. Further up, the journey north was a tiresome, fruitless drive across the jade sea to a region that calls Nairobi 'Kenya'. They have felt so marginalized over time especially because of how disconnected from the rest of the country they had been. Whatever products, ideas or services they would have traded with the rest of the country, they were locked in dry oblivion. Currently, they enjoy an increased market access to goods and livestock produced from the region. There is finally an access to Nairobi as a key market for the livestock produce. According to a report of County Stakeholders Consultative Forum held in June 2015, there was an increase in maternal health care with referral cases and fatalities reduced. By the end of last year, only 80 percent of the 508 kilometre stretch had been done.
Moreover, the LAPSSET program has resulted in direct employment to over 1,600 persons in the ongoing and completed projects. The project's implementation has provided sustainable employment to the local residents and is also facilitating skills transfer especially in oil and gas sector, the civil engineering works and in vocational skills such as plumbing, welding, and carpentry among others. The program has supported over 350 students to undertake technical skills and professional course.
Looking at the LAPSSET plan, there is still a large chunk of projects yet to begin. This includes roads to Turkana County (Lokichar, Lokitaung and Nakodok), Lamu, Baringo and Garissa. Ideally, the roads signify a paradigm shift to move the country from the imbalanced economic premise to a more vibrant and inclusive foundation. For ages now, the country has concentrated investments in 30 percent of the country's land space. The other 70 percent of the country, despite having massive resources, have been locked out in isolation. High value resource potentials like minerals, oil and gas which are capable of catalyzing high value investments as well as generating high value returns to the economy, have remained untapped in these regions. In particular, the 70 percent of the country located on the northern region is well endowed in oil and petroleum resources and other mineral deposits as recent discoveries in Turkana and Marsabit confirm.
The only first step towards realizing such growth in these regions has always been an efficient transport system. And if the Isiolo-Moyale road is anything to go by, we are headed towards the right direction. There is a huge potential for undertaking massive and mechanized agricultural production which would not only ensure that the country is food secure but also lower the cost of living and further provide employment opportunities.
So far, there is a lot to hope for. That we are moving to increase the habitable and productive area in this country is a sign that we are ready to drive the economy into sustainable double digit growth. LAPSSET provides that picture, and the Isiolo-Moyale road offers the perfect litmus test.
Jessica Anjalo is a Social and Political commentator based in Nairobi.