Young writers should honour Marjorie by writing more texts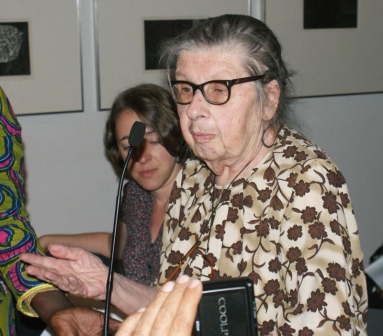 Slightly over ten years ago, as a budding editor at East African Education Publishers Ltd, (EAEP) my boss, Mr Kiarie Kamau, assigned me the task of proofreading novels and novellas ahead of the 40th anniversary of the former Heinemann Publishers Ltd, the home of respected African Writers Series. It was a stomach-churning assignment, which necessitated working closely with respected African writers of all time.
Besides editing a publication contributed to by Chinua Achebe, Ngugi Wa Thiong'o, Cyprian Ekwensi and the father of the AWS tree, James Currey, we published a record 40 titles in less than three months. It was a watershed moment in my editing career as I rubbed shoulders with who's who in African Literature.
One of the works we had to churn out was a Farm Called Kishinev, by Marjorie Oludhe Macgoye (MOM), which deservedly won the Jomo Kenyatta Prize for Literature barely a year later. It was around the same time that I worked closely with Marjorie – who took a final bow this week- to roll out The Black Hand Gang Grow Up, the last in the popular Black Hand Gang series for junior readers.
Despite her advanced age, Marjorie worked pretty fast. Where authors back then preferred taking sweet time scribbling proposed insertions on foolscap, Marjorie would key in any new additions on her trade mark typewriter and deliver the typescript to the office. She would then explain to us young editors why she wanted certain sections revised, even when we should have spotted the same in the course of our editorial work. Though I interacted with her a lot as we kept correspondence moving back-and-forth between her residence in Ngara and Woodvale Grove, Westlands (EAEP head office), it was a few years later that she posed to me what I have taken as a life challenge.
I bumped into her at Sarit Centre in Nairobi during the annual Nairobi International Book Fair, which she attended each year. I had just learnt that Mvule Africa Publishers had published Nyarloka's Gift, a great work on Marjorie written by the eminent Brockport University (New York) scholar, Roger Kurtz. The book traced Marjorie's life from the time she first landed in East Africa as a missionary with a thing for books, through her marriage to a Kenyan to The Present Moment (she has a book by this title, by the way) when a whole generation has grown up reading Coming to Birth, which was a secondary school set book a few years ago. For us older folk, it was her folk poem on girl-child rights, Atieno Yo, that was the most popular.
Reading Nyarloka's Gift, I realised it borrowed heavily from her unpublished memoirs, A Half-Witted Life. The book also relived thrilling moments MOM had with friends like Jonathan Kariara, one of the best African literary editors and fellow African writers such as Ama Ata Aidoo. So as soon as we sat down at Sarit Centre, I asked Marjorie why she had not submitted A Half-Witted Life for publication. She told me she felt Kurtz had pretty much captured her life in her book and: "Why should a young man like you keep challenging an elderly lady like me to write? You should be writing more!"
The challenge hit me like a thunderbolt! It is the reason I decided to write my first novella for junior readers, The Daredevil Rider, perhaps following in the footsteps of The Black Hand Gang series. As MOM – or Nyarloka, if you will – go to be with God, the challenge for the young writers is not to demand more good books from their seniors to read. The challenge is to honour her lifetime of prolific writing by churning more works of literary art. Go well, MOM, your place in the hall of literary fame is not debatable.