Listen to this article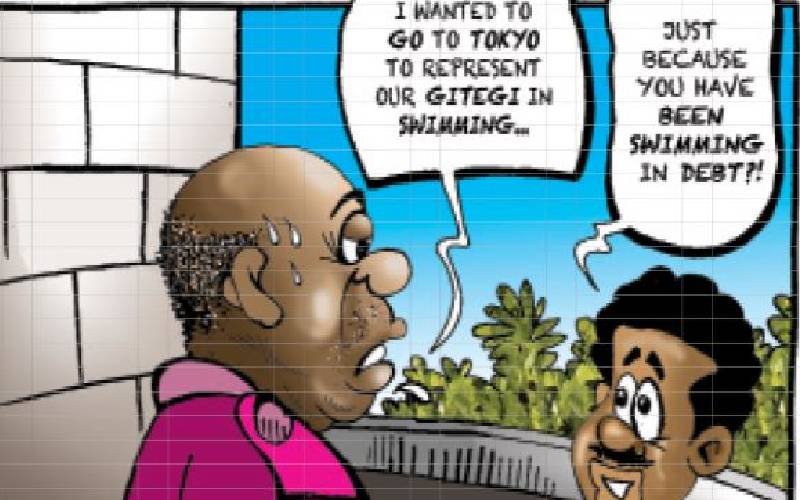 The Olympic Flame should have been lit in Gitegi, where cold weather has set up camp, and not in Tokyo. Haters will say that the city needed to literally warm up for the Olympics, but looking at how some of our hitherto promising teams have been walloped, it is likely the confidence of our athletes got scorched by the flame.
On the solitary TV that the village boasts, which is run like a personal business by Harold, we watched Kenya underperform in the first games of the 2020 Olympics.
Many feel that Kenya is not failing; it is just waiting for athletics to begin. And then Kenyans will literally run the show.
"Let them collect the medals," said Harold to a distraught congregation of believers and disbelievers who watched one of our boxers get floored. "We are giving them a head start. We will win all the available medals in the races."
Even Harold is running, albeit for the Gossip Mill chairmanship. But is it a surprise? Gitegi is a village where everyone is running after something; for something, or, most often, away from something.
In this village, you will find people even running from each other, as is regularly the case between Harold and his estranged girlfriend Sue. I think they would do well in relays, only that one would not wait for the other to pass the baton.
I found Harold, in a bid to increase his charges for the TV, telling an awe-stricken crowd that Usain Bolt would be lining up for Australia and that Paul Tergat had been warming up for 800 metres.
The TV uses a lot of energy when showing superstar athletes, he insisted, and especially if the cameras pan fast because the athletes are 'speedy'.
They were conned into paying for it.
At first, Harold had sought funding to go to Tokyo to represent Gitegi in swimming. This was because he has been swimming in debt since I was born, and he blames it on me.
"But you do not even feed me, how would I contribute to your financial woes?" I often question.
"That you do not eat means that a lot of food goes to waste, and do you think that is not enough to have me in debt?" he retorts.
But it is wrong to suggest he swims in debt because he is clearly sinking in it, making no progress whatsoever, with some clueless creditors still lending him money.
I should be credited for making Harold look even a little reliable, but let me give him his 15 minutes of fame, or more, lest the creditors shift focus and skin me alive.
If you remember, schools reopened last Monday for the start of the new academic year.
Parents who had borrowed from shylocks to pay the exorbitant fees most schools were asking for found themselves unable to access the church any other day of the week but Sunday. This is because anyone who could not afford to pay to watch the TV was not allowed in.
Among the most anticipated races in the Olympics for Kenya has been the women's 1,500 metres, where Faith Kipyegon, a 2016 Olympic champion, who has won or finished second in every major championship since 2014, is expected to bag gold.
I asked Harold if after the race we would say that "we have finished the race and have kept the faith," or if we would insist that "faith had moved mountains," and he threw me out of the church.
As Naomi Osaka, the tennis star who lit the Olympic cauldron crashed out of the Olympics, yours truly crashed onto the cold grass outside the church, where the autocrat had thrown me.
One of the reasons why Harold will keep on running and never make it to the Olympics is his inability to tolerate people who seem wittier, or competitive.
Share This Story
Next Article
Sports Ministry vows to continue fight against doping after Otieno's suspension from Olympics