Listen to this article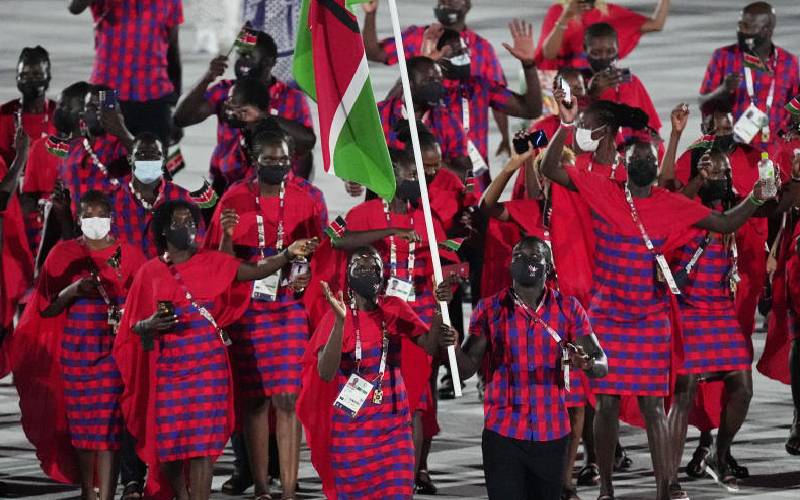 The Tokyo 2020 Olympics began in earnest yesterday in Japan with the opening ceremony made more colourful by a range of technological showboating by the hosts.
Using advanced technologies as virtual and augmented reality, Japan sought to demonstrated the virtue of hard work amidst adversity to deliver classic Olympiad.
Tokyo is hosting the Olympic Games for the second time, the first being in 1964 where Kenya won her first-ever Olympic medal thanks to Wilson Kiprugut Chumo in 800m.
From little known countries as Aruba, Kibati or Tuvalu to big sporting nations as Kenya, Australia, the USA and Jamaica, athletes clad in resplendent attire marched past near-empty stadium as television cameras beamed the images to billions of people watching across the globe.
Team Kenya deputy captain Andrew Amonde was tasked with carrying the Kenya flag during the ceremony – confirming Kenya's quest for more glory in an event deemed the pinnacle of human sporting endeavour. Thousands of fans were turned away from the Tokyo Olympic Stadium as the Japanese Government continued with its spirited attempt to curb the spread of the Covid-19 pandemic.
However, it did not dampen the spirit inside the imperious 68,000-sitter stadium as the organisers put up a show worth the one year wait.
The showstopper march-past was just a preamble of expected action between 11,326 athletes in 33 sports disciplines that runs until August 8 crowned by the men's marathon race whose gong is held by Kenya's Eliud Kipchoge.
Having put up the best ever show at the 2016 Rio Olympic Games (6 gold, 6 silver and 1 bronze), Team Kenya will be looking to surpass the medal haul in South America four years ago.
With an 87-strong contingent, Kenya will be represented in 7 sports disciplines namely; Athletics, Beach Volleyball (women), Boxing, Rugby, Swimming, Taekwondo and Volleyball.
Boxer Nick Okoth will be the first Kenyan in action tomorrow Saturday in the Men's featherweight category when he takes on Mongolia's Tsendbaatar on Saturday 12:51pm (Kenya Time).
It is the first time Kenya has taken the largest number, 50, of female Olympians.
Volleyball women's team Malkia Strikers are returning to the Olympic Games for the first time since making their debut at Athens 2004.
Share This Story
Next Article
Use of statistics could come in handy for Malkia Strikers in Japan today