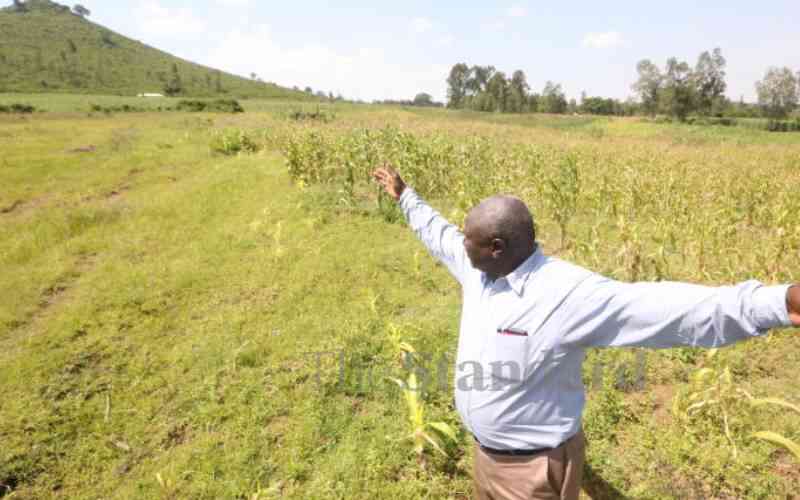 Hundreds of families living around Nyando and Kericho are anxiously waiting for compensation and resettlement after their land was earmarked for construction of the Koru-Soin dam project.
The residents want the National Land Commission (NLC) and National Water Harvesting and Storage Authority to ensure they are paid before the contractor starts work in October this year. Groundbreaking was scheduled for last Friday.
The most affected are those with succession and administrative land issues, and who were given time to settle the cases with their families.
Some residents said they have only been paid for the development on their land while others have not received any compensation.
Charles Kipngetich, who is representing families on the Kericho side, said payment has also been delayed for those who don't have land disputes.
"I am living along the zero-line where they will construct the wall of the dam. I have cleared all those transactions with the relevant officials, including signing of payment award. They had promised to pay a few months ago and out of excitement I even looked for land to purchase. But to date there is nothing in my account," he said.
David Oginga, who is representing families on the Koru side, said they were told during a meeting that issues of oversight and verification of details had delayed payments.
"There are some issues with land succession that have delayed the process of land compensation, but they have given us their word that it will be sorted and we will be paid by the 20th of this month. We had a meeting with the contractor and the water authority on Friday and we were told the contractor has been paid, and our monies have also been paid to NLC who are supposed to pay us," said Mr Oginga.
The Sh20 billion project that was awarded to two Chinese companies in May is expected to end perennial floods in Nyando and Nyakach.