Young Kendu Bay man's business dream flourishes in ruined buildings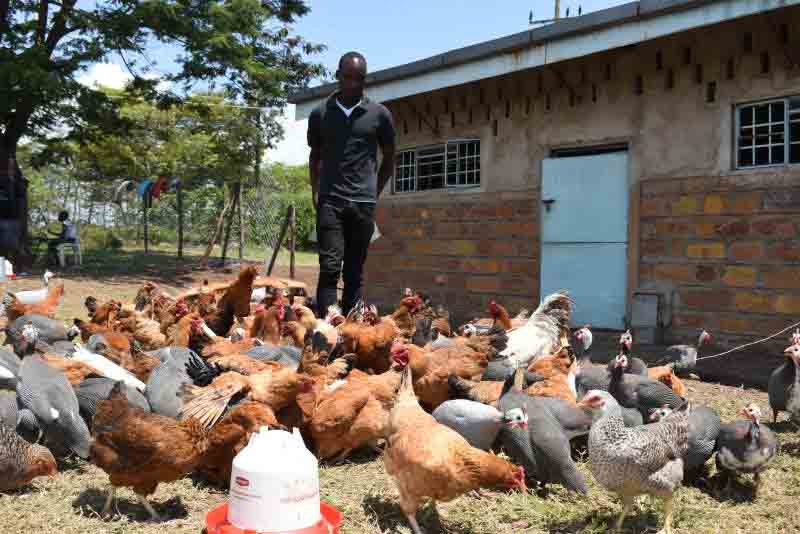 It was a lazy evening stroll along Kendu Bay Pier in 2017 when a thought hit Victor Odhiambo.
He saw an opportunity in the numerous buildings consumed by bushes and rust, with some parts falling off.
After inquiry, Odhiambo was informed that the buildings in Kendu Bay Old Town once hosted jua kali artisans before they moved out following the collapse of the town.
Odhiambo, who had just completed a diploma course in public health at the Great Lakes University of Kisumu, sought the government's approval to use the space.
"I had a passion for poultry farming, and I saw the space as very suitable. At that time, I had few chickens at home," he said.
And in mid-2017, Odhiambo got a job in the Homa Bay County government as a public health officer, an opportunity that saw him get capital.
"I stocked 1,500 chicks, and within six months, I had lost 550 through theft and death," he said.
And after making the first sale, Odhiambo's interest in the trade grew.
When The Standard caught up with him at the farm last week, Odhiambo was preparing to deliver 15,000 chicks to a client in Siaya.
He has three employees who help him care for the birds and market the business in schools and other organisations, and events such as weddings and funerals.
His passion for the business started when he was in primary school. His father, who worked at a tea estate in Kericho, reared a few chickens, which he would sell to cater for domestic needs and school fees.
And as he was completing his college education, his father retired and moved back to their Mawego home in Homa Bay.
Odhiambo joined him and begun buying chickens from neighbours, raising them before selling for profit.
The business was good. He stocked more fast-growing improved kienyeji chicken. And when he saw the idle buildings, he thought this was an opportunity to expand his business.
"I named the business Chak Achaka Organic Poultry Farm," he said. Chak achaka is a Luo phrase meaning 'just start'.
Delicate birds
"People said it was too expensive and risky due to the delicate nature of the birds, but I was determined."
Training by Practical Action, an international organisation that works with communities equipped him with skills to make poultry feed and medicine from local resources.
Today, he makes a concoction of garlic, pawpaw leaves, pepper and other herbs to make feeds. He also uses the chicken waste and flies to produce maggots.
His main feeds come from cereals produced on his farm and omena.
"Some people bring me eggs to hatch for them, so I earn more from that," he says of his incubators with a capacity to hatch 3,000 eggs every month.