How Sarah Obama's kindness transformed her Kogelo village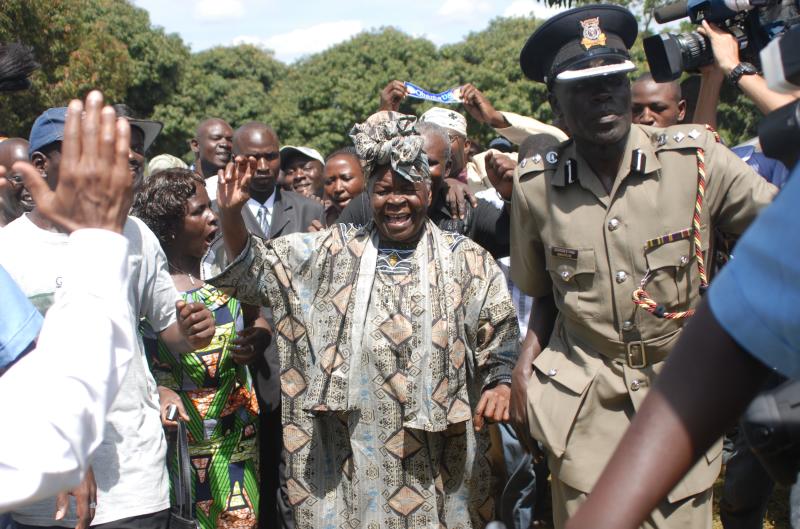 Mama Sarah Ogwel Obama, who died yesterday in Kisumu, was known for her kindness.
She died as Jaramogi Oginga Odinga Teaching and Referral Hospital doctors fought to save her life. She was 99.
She dined with the high and mighty in five-star hotels, held hundreds of media interviews and had her image splashed in some of the most respected news channels across the globe. And even then, she resisted the urge to take up a social class that normally comes with such privileges and mingled freely with members of her village.
She was also globe-trotting, visiting the US, Canada, Germany, Egypt, Ethiopia, Saudi Arabia, Libya, Sudan, South Sudan, Tanzania, Uganda and Malawi, among others.
Mama Sarah Obama, as she was popularly known, was catapulted into fame by her grandson - Barack Hussein Obama - who'd risen from humble beginnings to make history as the first black president of the United States.
Mama Sarah, known for her philanthropy and humour, first strode to celebrity status in 2004 when news filtered into the then sleepy Kogelo village in Siaya County that her legendary grandson had entered the race for the presidency in the world's most powerful nation.
Spotting a skinny frame and little known across the US, the young Obama, whose father, Barack Obama Snr, grew up herding goats barefoot in the ridges of Kogelo, quickly hit the news headlines because of his oratory and mobilization skills.
It was Dennis Onyango, ODM leader Raila Odinga's spokesman, who broke President Obama's story in Kenya in 2004. The story was published on how a young lawyer with Kenyan roots was causing ripples in state of Illinois.
Two days later, I was dispatched to Kogelo to trace and interview Sarah Obama. When I arrived, Mama Sarah's was a humble village home. It was there that the former US President Obama's history began.
I arrived at the home shortly after midday, having travelled in a rickety matatu from Kisumu. Mama Sarah was weeding her maize crop, her son Said Obama was by her side.
It was a typical rural home. Two semi-permanent houses and a kraal in cow dung-doting compound with overgrown grass. This made me doubt the magnitude of the story I had been sent to cover.
When she saw me, Sarah Obama sought to know who I was and why I had come to interrupt her work on the farm. She hesitantly agreed to an interview with me. But even then, I had waited for two hours; she had to finish her work first.
The news about her grandson excited her but she was reserved. She dashed to her bedroom and fished out some of the pictures she took with the young Barack Obama when he visited for the first time in 1987.
"This is when Barry (Barack) came to mourn his father. He came with his girlfriend and they slept on a mat on the sitting room. They helped me sell sukumawiki at Kogelo market," Mama Sarah said.
That was the beginning of my friendship with Mama Sarah and her son Said Obama. I visited them three days later with the newspaper in which their story had been published. I had also returned the framed photographs I took when I visited.
Many international journalists would later fly in to interview the legendary grandmother. Her home became such an attraction and a press centre as curious tourists and journalists scrambled to interview and take pictures with her.
Sarah Obama would at time hesitate to give out information. However, she would pour out her heart to the journalists I would accompany to her home.
Then came the transformation of the village when Barry won the presidential elections in 2008. For close to one month, Mama Sarah was on cloud nine. Her status suddenly changed. The clothes she used wore put aside and new ones bought. Officials from the US Embassy and Kenyan government frequented her home.
A police post was established near her home. A new bungalow was also constructed for her. A water well was sunk and equipped. Kenya Power took less than a week to connect her home to electricity. The once muddy road from Kogelo market to her home was tarmacked.
"Ka mama Sarah" (mama Sarah's homestead) suddenly became a no-go zone. Journalists, tourists, politicians and residents who wanted to visit the Sarah Obama's to speak to her home suddenly had to book appointments. Everyone wanted to take a picture with her.
It was no longer business as usual. Bodyguards accompanied her to public functions. Police officers saluted her and stood still whenever she drove around or at national functions.
But one interesting thing about Mama Sarah is that she never really changed, as a person. She remained humble as the villager in her refused to go away.
She still mingled with residents, irrespective of their social status. A few years ago, she established an NGO - Sowo, to help pay fees for orphans and vulnerable children.
Even as diseases gnawed her body, Mama Sarah remained focused. Her main preoccupation has been her philanthropy that mainly targeted vulnerable children and widows. She even put up a resource centre to help the needy next to Kogelo market
She became a star when Barack Obama visited Kogelo as a US senator in 2006, almost 19 years after he made the maiden visit in 1987.
In 2009, Mama Sarah was in the delegation of friends and relatives from Kenya that attended President Barack Obama's inauguration as the 44th US president.
The world leaders she has met, other than her grandson, include former Libyan president the late Muammar Gaddafi.
In 2015, she was among the VIP guests and close relatives who dined with the then President Obama when he visited Kenya. Mama Sara sat on the same table with President Obama. She also had a room booked for her at the high-end hotel in Nairobi.
When I later asked her what she discussed with President Obama, she said: "We discussed a few family issues but I told her to support Kenya."
In 2018, Mama Sarah hosted Obama who had just completed his second term as President. Obama who had come to Kenya to open a training centre built by his sister, Dr Auma Obama in Kogelo.
Mama Sarah hosted the former US president in his new bungalow, served him fish and narrated village stories to him, including the day he (Barack) helped her sell vegetables at Kogelo market.
Sarah Obama was awarded a honorary doctor of letters degree by the Great Lakes University of Kisumu (GLUK) in 2010.
In November 2013, she was awarded by the UN for her role in promoting education.
And as Kisumu Governor Anyang' Nyong'o, who broke the new of her death said, Mama Sarah was always charming and warm.
"She was my late mother's friend and a dear grandmother to all of us. May the Lord rest her soul in eternal peace," Prof Nyong'o said after viewing her body.
Mama Sarah Obama is survived by four children. She will be buried according to the Islamic faith.