BBI bill will sail through in Assembly, says Migori County speaker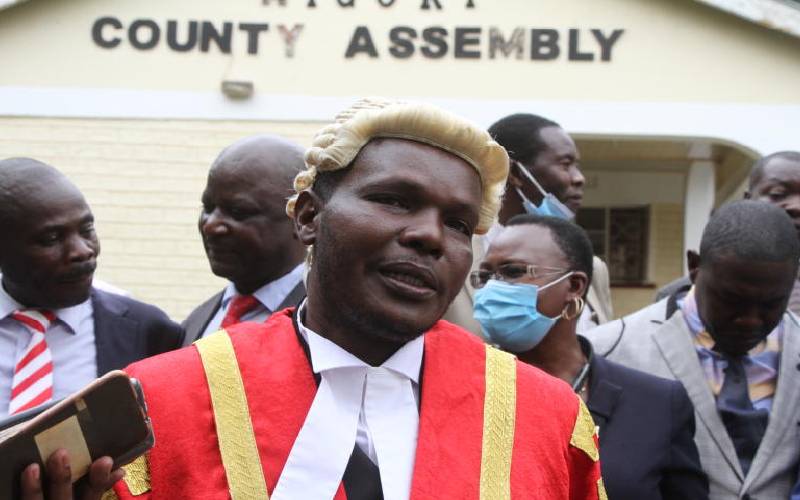 Migori County Speaker Boaz Okoth has said the Building Bridges Initiative (BBI) bill will sail through in the assembly.
Speaking on Tuesday when he addressed the media in Migori town, Okoth, however, said the assembly will have to go through due process before they pass the bill.
The assembly on received the bill on Monday and will be tabling it for debate on Wednesday.
"The document will be tabled tomorrow in the House by the Majority Leader," the speaker said.
The bill with then be taken to the Committee of Justice and Legal Affairs before being taken through a public participation process and then passed.
Okoth said the assembly will ensure that the public is consulted on the bill and go through all the required processes to avoid cases where they are challenged in court.
The assembly has promised to pass the bill as soon as possible, with the leader of Minority Nicholas Roiba saying that if MCAs find the bill worth it, it will pass, but will reconsider it should they find it not worth passing.
"We will pass it if it is worth and if it's not we will reconsider," said Rioba.
Majority Leader Ken Ouma who is South Sakwa MCA said he would table the bill which is the key thing that will be given much focus in the assembly.
"We are prepared and we will follow the due process in passing the bill. We will conclude it within the shortest time," Ouma stated.
South Kanyamkago MCA Graham Kagali said they were waiting for BBI copies to reach the wards so that they could share them with their people.
He asked constituents to exercise patience and not see Migori as lagging behind in passing the bill as they wanted to ensure that due process is followed.
"Let them not see that we are lagging behind on matters of passing the bill," said Kagali.