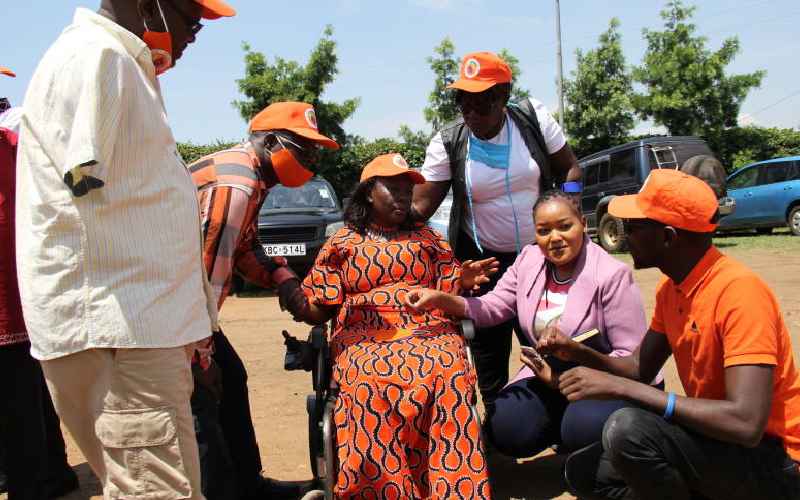 Persons living with disabilities (PWDs) in the ODM party want the proposed referendum through the Building Bridges Initiative (BBI) make them a stand-alone group in the Constitution.
Currently, PWDs are classified PWDs under special interest group in the Constitution which comprises youth and children, the minority and marginalised, gender and women.
Led by nominated MP Dennitah Ghati, ODM Disability League President Nickson Kakiri, Homa Bay nominated MCA Edwin Kakach and Rockafella Okeyo (member) said classifying the PWDs under the special interest group had worked against them.
Speaking during the ODM Disability League meeting in Homa Bay town, Ghati said classifying the PWDs under the special interest group had denied them gains they expected from the current Constitution.
Read More
She said the classification had denied them guarantee in getting some of the opportunities they deserve.
The MP said the only way to rectify the anomaly is to classify PWDs as a group of its own in the new constitution through the BBI report.
"The special interest in the current constitution is a blanket group that cannot accord the PWDs gains they deserve. We are supporting the BBI report hence we want the PWDs classified as a group of its own in the new constitution that will emanate from the BBI," Ghati said.
She said they are going to undertake various initiatives to ensure the interests of the PWDs properly catered for in the imminent constitution.
"We are going to hold conversations to ensure interests of the PWDs are catered for in the new constitution through the BBI," the MP added.
Kakiri said inclusivity in the BBI should be seen by incorporating interest of the PWDs in the new constitution.
"As PWDs, we feel being left out in the current constitution. We hope our interests will be included in the new constitution being championed for," said Kakiri.
He urged persons with disabilities to contest elective posts in large numbers.
"Let PWDs not be cowed. They should come out to talk to people to ensure they are voted," Kakiri added.
Kakach and Okeyo said persons with disabilities could only be empowered well if their rights are anchored in the constitution.