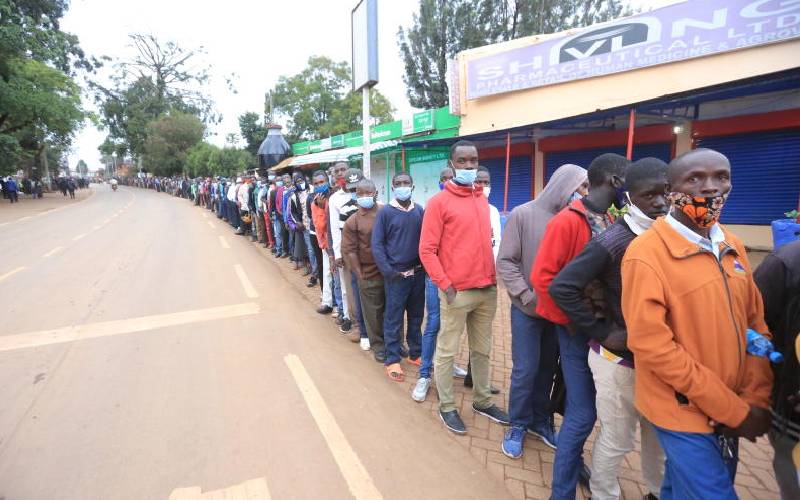 Long queues started forming at Gusii Stadium as early as 6am as residents braved a chilly morning and Covid-19 fears to attend Mashujaa Day celebrations yesterday.
Officers from different security agencies patrolled Kisii Town to ensure law and order.
The town acquired a new image as boda boda and matatu operators were locked out of the Central Business District. Only vehicles with special stickers were allowed access to the CBD.
Before the event, workers from the county spruced up the town. Billboards bearing faces of some of the heroes and heroines from the region dotted the streets.
Some of the residents said they woke up as early as 4am because they did not want to miss the historic day. Joshua Nyakori, a father of two, said the event had boosted the image of the region.
Read More
"I did not want to miss this now, especially because it had been brought home. That is why I woke up early," said Nyakori.
Eunice Mwenda said her desire was to witness heroes from the region feted. "I am a fan of Hellen Obiri. She has contributed so much to this country," she said. Those attending the event were subjected to strict security checks. Another team ensured health protocols to control the spread of Covid-19 were adhered to.
However, it was chaotic outside the stadium as health protocols, including wearing of face masks and social distancing, were violated. While the number of attendees in the 25,000-seater stadium was reduced to between 3,000 and 4,000, residents were left on their own, as they jammed venues where they followed proceedings on giant screens.
The military band had already started entertaining guests by 7.30am. Hosting the celebration in Kisii was also a blessing to the region, especially to the hotel industry as visitors sought their services. The hotel industry has been struggling due to restrictions meant to stop the spread of coronavirus.
Those entering Kisii Town were dropped off at designated points to ensure unauthorised vehicles did not access the CBD.
President Kenyatta landed at Kisii High at 10am. He headed to Kisii State Lodge where he spent about 20 minutes before heading to the Gusii Stadium.
At the Kisii Sports Club, five huge tents had been erected to accommodate around 8,000 people.
Mary Nyamoita, speaking from Kisii Sports Club, said residents were happy that hosting the event had seen local leaders rush to complete projects that had stalled.
Asha Mukami Dafalla was among the 200 heroes and heroines honoured. The mother of three and a community worker has consistently been donating blood since 1981 when she was in Form three.
"I feel good donating blood knowing I have saved lives. We shouldn't wait for tragedies to donate blood. We have lost lives after our blood banks went dry," said Dafalla has donated blood 66 times.
Mafuko Industries Limited proprietor Vinod Ramji from Meru was honoured for his fight against Covid-19. He donated 40,000 masks, sanitizers, hand washing equipment and food stuffs.
Habib Iman Abdi,58, from Wajir, was recognised for her war against FGM and early marriages in her county. [Eric Abuga, Harold Odhiambo, Stanley Ongwae and Edwin Nyarangi]