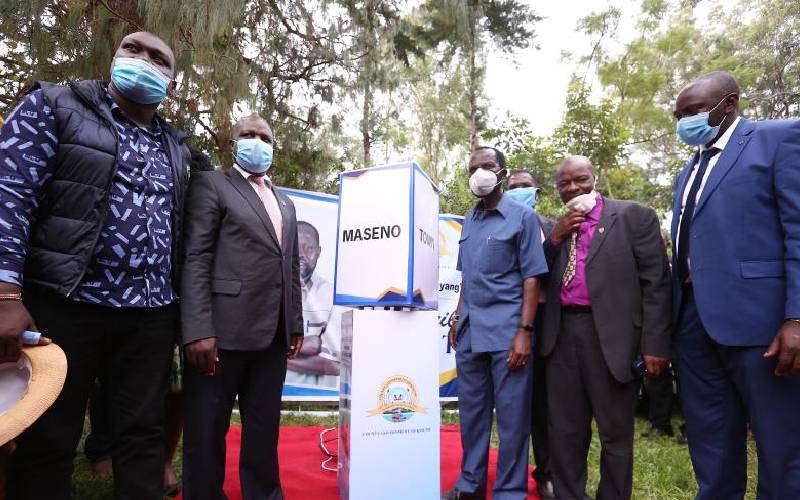 From grass to grace, and back on grass. That is the story of Maseno, a pre-colonial town in western Kenya.
The area started as a religious centre by the Anglican Church in 1903 is seeking to reclaim lost glory after Kisumu County Government gazetted it as a town, and international financiers invested millions of shillings to transform the infrastructure.
Read More
Maseno town has been allocated Sh40 million to improve infrastructure such as roads, water sewerage system and have tourism development included.
Governor Anyang' Nyong'o says attracting investors is key to transforming the town.
"The challenges the town is facing should not stop you from coming and investing in it," he says.
The governor appointed Kennedy Hongo as Maseno town's interim administrator, saying it would be hard for the town to develop without a solid committee and a dedicated team.
Prof Nyongo says Maseno University and Maseno School will also be factored in the development of the town.
"Educational institutions contribute to the growth of towns," he says.
Boundaries
Deputy Governor Matthews Owili notes that Maseno University was one of the catalysts of the development of the town.
Mr Owili urges residents to consider the value of the land when selling it. "We need to work with residents so that they are not left out in the growth of the town," he says.
Kisumu West MP John Olago has urged residents to avoid border conflicts and welcomes all traders.
"Our neighbors from Vihiga are welcome to trade with us. These are just artificial boundaries and it is important to note that we have relatives who are married from Luhya communities and others from Karateng'," Mr Olago says.
With the gazetting of Maseno as a town, Esianganyi Sub-Location within Kisumu West Sub-county will be a township sub-location.
Other urban centres gazetted as towns are Ahero, Muhoroni, Kombewa in Seme, and Katito in Nyakach.
Maseno was named after a tree commonly known as Oseno by Luos and Oluseno by the Luhya.
The town experienced tremendous growth when missionaries arrived through the Kenya-Uganda Railway, which was being extended to Kisumu.
Philip Awinyo, who a former nominated Councillor in Kisumu, recalls that a missionary, Rev John Willis, and his colleagues visited the then Sagam Chief Ogola Ayieke in 1903.
The missionaries returned to the area in 1906 and went to Vihiga County, where they started Kaimosi mission.
Rev Willis informed the residents of their intention to start their missionary work locally, but they declined, as they already had a church. The residents sent them to Maseno.
A number of missionaries, led by Rev John Jamieson Willis, were moved from Vihiga by the Church Mission Society (CMS) to spread the gospel.
"This is when Willis came to Ayieke and he asked to be given a place where he could start his missionary work," Awinyo narrates.
The chief donated part of his land, where the missionaries started preaching the gospel under a tree.
Awinyo, a grandson to the former chief, says Willis asked Ayieke the name of the tree and with the reply in Luo, "Ma Oseno," the cleric called the area Maseno.
Willis was nicknamed Kogore by locals, as he was known to be a fighter, "Ogore."
The missionaries' decision to settle in Maseno, which is the birthplace of Raila Odinga and Pamela Mboya, paved the way for its development.
During the initial stages of development, the area became a religious station, with the construction of the Anglican Church.
"The missionaries faced language barrier which made communication with locals difficult," Awinyo says. The missionaries established Maseno School in 1906, to help spread the gospel to locals.
In 1908, Siriba Teachers Training College was established. Later Maseno University was set up and gazetted in October 1990 as a constituent college of Moi University after the merger of Maseno University Government Training Institute with Siriba Teachers Training College. It became a fully-fledged university in 2001.
Ayieko says that Maseno Mission Hospital was established in 1921 through funds raised by London Red-Cross, after which animal husbandry the now University's Vet farm was started in 1925 before an agricultural department was formed.
He joined Maseno Junior School which had Standard One to Four. "Anyone who passed Standard Four exams would be allowed to proceed to Maseno School Junior Secondary which had Standard Five to Eight," he states.
Ayieko joined Maseno School in 1954 and sat for Form Two examinations, Kenya African Secondary School Examination (KASSE) now Kenya Certificate Secondary Examination (KCSE) done by candidates in Form Four.
Mismanagement
Daniel Owek, 73, who joined Maseno Junior School in 1955 and did a two-year course at Siriba College in 1972, says at the time learning was free and clothes and sweets were given to children to entice them to go to school.
"Some elderly people did not want to go or take their children to school for fear of being taken away from home," Mr Owek says.
Ayieko says Maseno's development had stagnated. Neighbouring towns such as Luanda, in Vihiga County and Lela in Kisumu County, which sprouted later, are now more vibrant than Maseno, which boasts of a university, hospital and Maseno School.
"Maseno should have become a town a long time ago. A lot of emphasis was put on missionary work," he says.
The stagnation of Maseno has been attributed to the long distance to the railway station at Luanda, which is the centre of transportation of goods that has made it develop faster. "For Maseno, the nearest railway station is in Lela, which does not have adequate facilities," he says.
Initially, the only means of transport to the town was the Kenya-Uganda railway.
The area opened up after the British administrative officials constructed Kisumu-Busia highway to connect Maseno to other major towns.
Owek believes the growth of Maseno stagnated after the projects started by the missionaries were left in the hands of Africans.
He blames poor development on mismanagement of utilities, boundary disputes and insecurity that made investors shy away.
Samuel Okeyo says hostels for students are among major recent developments.
Okeyo blames the slow growth of the area on border politics, insecurity and selfish interests of local leaders. "There is very little change as hostels and a few businesses are the things that keep Maseno running," he says.