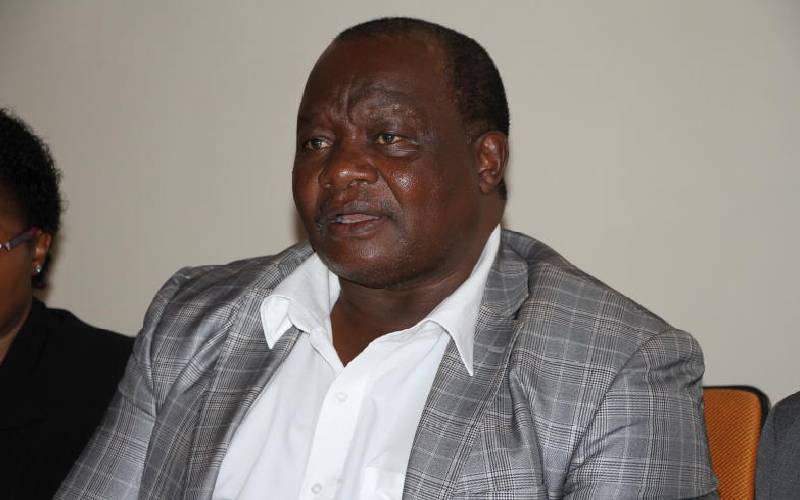 Migori deputy governor Nelson Mahanga is set to take over after a court barred Governor Okoth Obado from accessing his office.
The man who has largely avoided the media and rarely attends public events has now been thrust into the limelight as he takes charge of county government operations.
On the few times that he has appeared in public, Mahanga (pictured above) has defended Obado whose track record he has described as impressive.
All eyes, however, are now him after Magistrate Lawrence Mugambi issued hefty bail terms for Obado and stopped him from accessing his office.
Read More
The magistrate described the strict bail terms as the measures to preserve the integrity of the trial.
Obado and his children have been charged with conspiracy to defraud the county government of Sh300 million.
Mugambi ordered that all public officers charged in the case be escorted, by investigating officers, to the county offices to collect their belongings and be barred from accessing them thereafter.
Mahanga's political light started shining when clan politics took centre stage during the 2013 elections.
In his bid to win over Kuria voters, Obado picked one of their own, Mahanga, as his deputy.
Mahanga's loyalty saw Obado retain him as his running mate during the 2017 elections.
Last weekend, he told journalists that there was no power vacuum in the government saying the county is running smoothly despite Obado's absence.
Yesterday, some MCAs described Mahanga as "a dedicated servant of the people and a devoted Christian who will manage county government affairs well".
"He is a good manager. He works quietly without seeking publicity," said an MCA who did not wish to be named.
In 2019, there were claims that he had fallen out with Obado but he said that was not true.