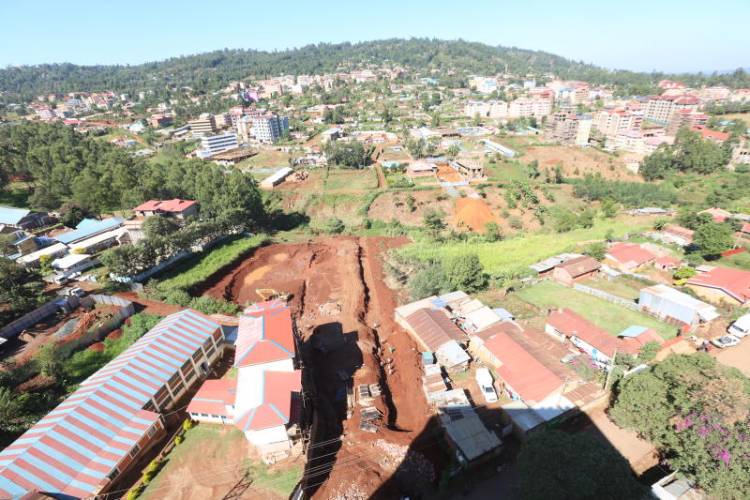 The Government has frozen land transactions in Nyanchwa Estate, Kisii and directed the National Land Commission (NLC) and Ministry of Lands to carry out document verification.
With more than 600 plots, the estate is registered as leasehold but the Kisii Land Registrar Steve Mokaya says investors have lost millions because of double registration of title deeds.
Mokaya explained that there is no more space for development in the area following unprecedented growth in real estate in the past five years.
"The defunct county council, which had been tasked by the Ministry of Local Government to issue allotment letters in Nyanchwa, awarded such parcels of land to some powerful people. They have gone ahead to subdivide the land into small pieces that have other multiple allotment letters," he said.
He noted that there are several forged land documents even as investors battle to put up commercial flats in the area that is in close proximity to Kisii town.
Read More
The freezing of land transactions is part of efforts by the County Land Registrar to reclaim government land and reduce the backlog of cases at the Kisii Environmental and Land Court.
The Lands office has reclaimed more than 10 parcels of land that were grabbed by well-known individuals.
"About 90 per cent of land meant for public amenities had been grabbed long ago. We are trying to reposes a huge chunk of land that had been grabbed," added Mokaya.
"There are those who think that they can drag the government to court. Several of them have used proxies to register illegally owned land," he added.
Already the registrar has issued 100,000 new title deeds to locals in the last three years in line with President Uhuru Kenyatta's directive to register land in the country.
Mokaya admitted that succession battles are a challenge in the region.
"Courts have the powers to address succession matters, unfortunately locals don't want to go through the process. Disinheriting other family members and brokers minting money in the process has been a challenge to us," he said.
At one point the registrar had to seek clarification of 36 grants that were issued from court complete with seals.
"Only four turned out to be genuine, but sadly nobody has ever been prosecuted. We will reduce murder cases once we stop ugly land succession battles in Kisii," he said.