Covid-19: Siaya begins testing staff, MCAs to curb virus spread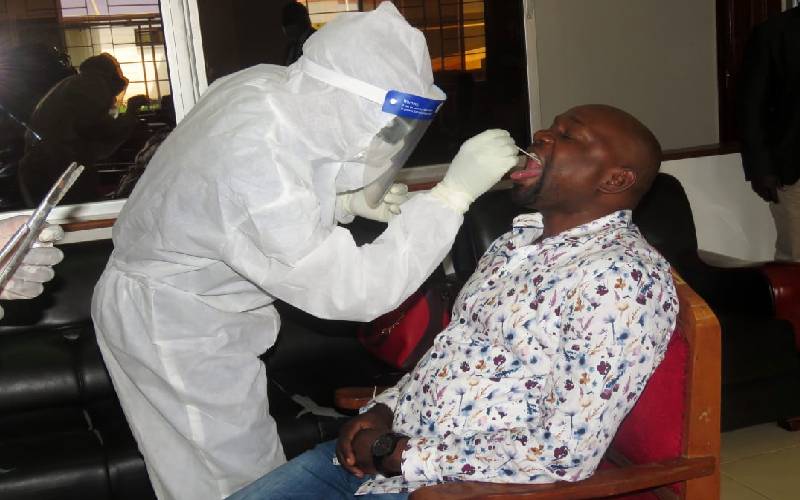 Siaya County has started testing of county government's employees for Covid-19 to curb the spread of the disease in the county.
Governor Cornel Rasanga's administration is targeting all staff while at the county assembly, all MCAs are also expected to undergo testing.
The process kicked off at the assembly premises and the County Government headquarters yesterday morning.
At the county headquarters, senior officials were among the first to undergo the tests while at the County Assembly the process started with MCAs and later in the afternoon Speaker George Okode among other staffs.
Director of Public Health Kennedy Oruenjo said they had received 1000 Covid-19 test kits from the Kenya Medical Research Institute (Kemri) and opted for cluster testing for both the Executive and Assembly.
Oruenjo said they opted for MCAs, assembly staff and those within the executive after testing 2000 health workers for Covid-19 in May 2020.
"We do not have a specific number of days for this exercise, it will take place until we exhaust the kits we received from Kemri," he said.
Speaker Okode, who addressed the media after undergoing a test said they had also tested support staff.
"We want to lead from the front and prove to our people whom we serve and lead that there is nothing wrong with taking the Covid-19 test. We basically want to make a statement against the stigma. We urge our people to go and take up the test as it is one way of knowing one's status, "noted Okode.
The Speaker said they had a target of 300 people scheduled to undergo the test by today.
The County has so far recorded 32 cases and one death of Covid-19 since the first outbreak in the county.
Currently, the total number of Covid-19 confirmed cases being managed at Bondo sub-county hospital isolation unit is 12 while in Ambira Sub-County Hospital Isolation unit are three.
Sixteen out of the cumulative 32 cases of Covid-19 confirmed in the county had a history of travel from Mombasa, Nairobi, Migori, Eldoret and Tanzania.
Sixteen out of the cumulative cases are local transmissions.