NGO sets aside Sh900,000 stipend fund for vulnerable children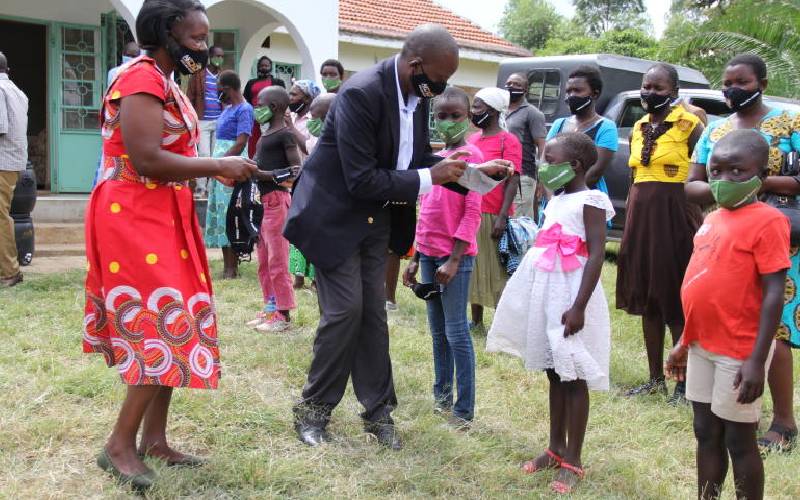 At least 800 orphans and vulnerable children in Suba South constituency will benefit from Sh900,000 stipend and anti-Covid-19 sanitation equipment.
Africa Inland Child and Community for Development (AICCAD) through the Child Centered Community Development Programme, is distributing a monthly stipend of 2,000 to 150 children with severe vulnerability in the group.
Speaking during the launch of the programme in Magunga shopping centre on Friday, AICCAD officials led by programmes manager Ascar Odero, coordinators Merab Okwara and Mathews Owili, and accompanied by Suba South DCC Kamau Maina said the money will be channelled directly to the children's caretakers.
"The money will be used for buying food and other basic needs to improve the children's lives," Okwara said.
The organisation will also distribute coronavirus preventive equipment which included 640 handwashing tanks, 1000 bars of soap and 2000 face masks to the remaining 650 children.
Odero said most of the beneficiaries were relying on child labour and other outlawed activities to earn a living.
"The organisation is offering this support to prevent the children from engaging in activities which can ruin their lives in future," Odero said.
AICCAD has also engaged more than 30 trained community health volunteers for sensitising residents on Covid-19 in the sub-county.
"The community health volunteers will also help us in monitoring the children at the homes," she said.
Owili said the organisation will continue empowering residents on how to fight child rights violation.
"We want every caretaker to have knowledge on how to handle cases of child rights violation to ensure we have children with bright future in this area," said Owili.
Maina warned parents against colluding with sex suspects to abuse young girls, saying action will be taken against the culprits.
He argued expressed concerns over teen pregnancies in the area. Most cases of sexual abuse are recorded in beaches at the shore of Lake Victoria.