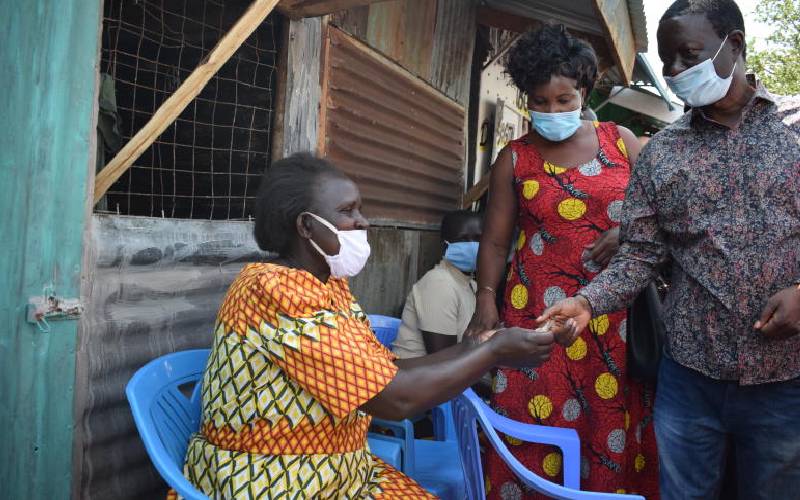 Some leaders have asked Homa Bay County Government to exempt more than 100 traders who lost their property after fire gutted their premises in Oyugis town from paying taxes.
Kasipul MP Ong'ondo Were and the National Government Affirmative Action Fund chairperson Caroline Owidhi want the county to exempt the traders from paying taxes for one year.
The traders lost their goods in an inferno which occurred about a fortnight ago.
The premises houses furniture workshops, butcheries, shops for electrical appliances, gas cylinders, motorbikes and vehicle spare parts shops among others.
Speaking on Sunday when they visited the traders, Were said the traders will not revive their businesses effectively if they are not exempted from paying taxes.
"I appeal to the county government to exempt these traders from taxation. This will enable them to recover quickly from the huge financial losses they incurred due to the fire," said Were.
Owidhi argued that most of the traders had stopped business activities after losing their property.
She said there is a need for the county to create a conducive environment that can allow the traders to trade without any financial unrest.
"My worry is that some of these traders may have to close their businesses. The county government should rescue them from by taxes exemption," said Owidhi.
During the occasion, Were gave Sh50, 000 21 traders who were more severely affected by the incident while Owidhi gave them Sh100,000 from Homa Bay Woman Rep Gladys Wanga.
Were said the traders still needed help to regain what they lost.
"Let more well-wishers intervene with resources to rescue the traders," Were said.
Foodstuff distribution
Were also distributed foodstuff to 500 vulnerable families to cushion them from the adverse impact of Covid-19.
"We are supporting the vulnerable families because they are in dire need of food," Were said.
The MP told politicians not to take advantage of coronavirus to pursue their political agenda.
"There are politicians who distribute relief food to residents affected by Covid-19 mainly for political mileage. Let us not take advantage of coronavirus to serve personal political agenda," the MP added.