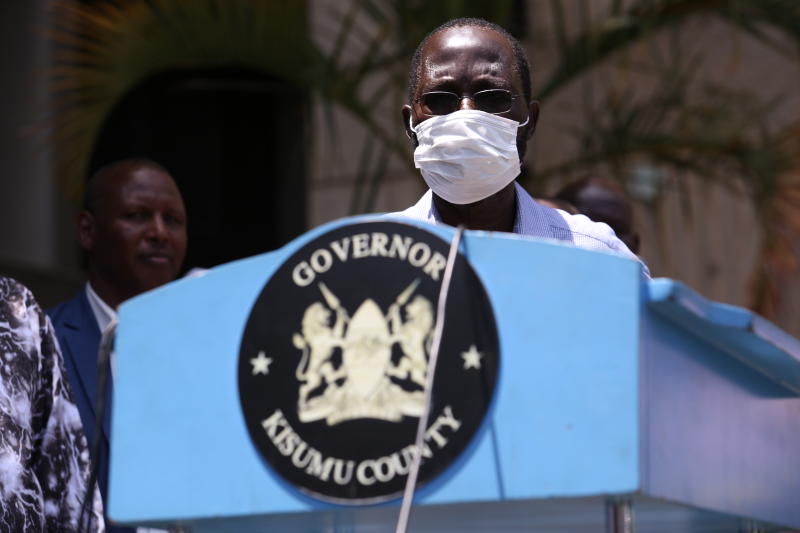 Governor Anyang' Nyong'o (pictured) has threatened to sack the striking healthcare workers deeming their strike unjustified and unreasonably subjecting patients to sufferings.
In Thursday's press release, Nyong'o ordered all the health care workers to report back to work on Friday failure to which they would be presumed to have absconded duty.
"Any health worker who will not have reported to their stations as directed will be removed from the payroll with immediate effect," Nyong'o ordered.
Nyong'o said that in an arbitration process the parties involved agreed that 1,007 health workers had been promoted and other raised issues of re-designations, salary delays and Covid-19 allowances had been resolved.
"Despite all these efforts and clear road map agreed upon, the Union leadership proceeded to call members to strike, remaining insensitive at this time of the Covid-19 pandemic with no genuine reason to proceed on strike," Nyong'o said.
But Kenya National Union of Nurses (Knun) secretary Maurice Opetu said the governor had not reached out to them and their strike will continue.
"We won't be cowed by threats, the strike is legal and our members will stay out until all our demands are met," said Opetu.
He said the county administrations can address them directly once they have solved all their grievances or take them to court and respond as to why they violated a court order.
While Kenya Union of Clinical Officers (KUCO) Secretary Craus Okumu said there is no evidence that they had implemented their promotions as salary increment is yet to be reflected on their pay slips.
"They should call us for talks once they have played their part until then we won't relent," Okumu noted.
He said if the governor is sure that he had done his part he should directly reach out to them rather than issuing threats through a press release.
But as the pull and push continued services in 123 hospitals across the county were paralyzed with private hospitals reporting a surge in numbers.