MP Were launches Sh20m water projects in Kasipul, pledges more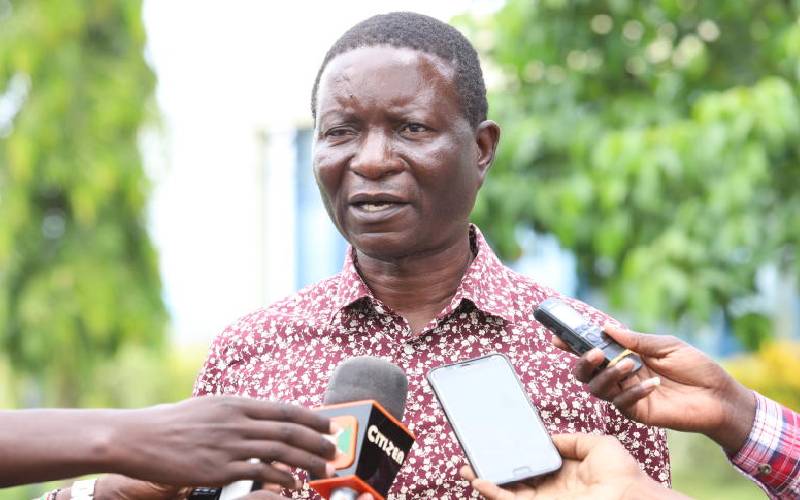 More than 2000 residents of Kasipul constituency, Homa Bay County have a reason to smile after a government agency started two water projects worth Sh20 million in the area.
Mawira Community Water Project in Kokech Location and Soko Kawino Spring Water project in West Kamagak Location initiated by the Lake Victoria South Water Works Development Agency will cost Sh10 million each.
Speaking during the launch of the projects at Mawira in Kokech Location, area MP Ong'ondo Were said the projects are aimed at ending perennial water shortage which had afflicted area residents
"We are working hand in hand with this agency to enable residents get clean water," said Were.
Were, who was accompanied by agency engineer Sharon Atieno and constituency manager Javan Omollo, said once completed, the projects will reduce the distance travelled by residents especially women in search of clean water.
"We want to make life bearable for our people so that our women don't lose a lot of time which could have been used in doing on other things to look for water," he added.
The ODM legislator also said provision of clean water will help combat communicable diseases which have been rampant in the area due to lack of clean water.
"It is cheaper to prevent communicable diseases compared to treating them. These projects are part of our efforts to boost the health of our people," Were said.
Atieno said construction of the projects are being undertaken concurrently and will take a duration of two months.
"We expect residents to begin using water from the two projects in early August," Atieno said.
Collection point
Atieno said Mawira Water Project will involve the drilling of a borehole and installation of pipes to distribute water in three collection points.
"This water project will produce 3000 cubic metres per hour," she said.
On the other hand, Soko Kawino water project will involve the installation of tanks to supply the water.
"Once drilled, there will be pump installations run by solar and electricity and proper piping to make it serve the people better."
According to the agency, the project will also have water kiosks built at 300 metres radius to ensure locals get value for their money.
Site survey
The project also comes with a place for cattle and other domestics' animals.
"This is not an ordinary borehole, it is a state-of-the-art project complete with everything that is why the government is spending Sh10 million on it," added the MP.
Were said there was no bias in picking the projects site, adding that the sites' picking are informed by a report from the experts' survey.
"Some people are wondering who chose the sites, but we want to tell them it is the geologists' after thorough survey that tell the team where to locate the project," he said.
Mawira Community Water Project chairman Almad Okode said the project is a sigh of relief to locals, saying they will use the water to grow horticultural crops too.
"This project will boost our livelihood because we will also use it to grow vegetables and other horticultural crops," Okode said.
He called on residents to embrace the project.
"I urge residents to co-operate with the contractor to enable him to complete this work within the stipulated time," he added.
Were said his dream is to ensure residents get water, adding that he will not rest until every corner of the constituency has clean water.
"Water is a necessity in life. I am going to launch more water projects in the subsequent financial year," Were said.
Kamiera Water Project
The two projects come barely a week after a similar one in Kachien South location at Sh10 million.
The Kamiera Water Project in Kachien will serve at least 1000 families.
The project also under the Lake Victoria South Water Works Agency will be completed after three months.
Area MP while addressing locals on June 1 during the launch said the project is expected to alleviate the perennial water shortage in the area.