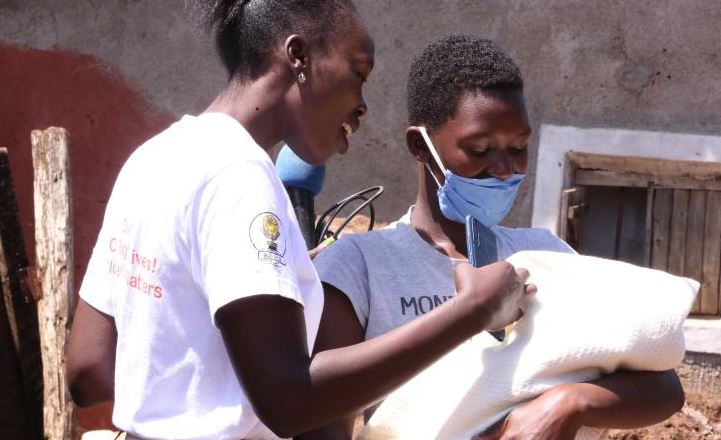 Checking into a hospital was the last thing on Dorothy Akoth's mind when she suddenly went into labour. It was almost midnight and the 27-year-old resident of Obunga slums in Kisumu knew it wouldn't be long until her baby arrived.
But there was one problem. Akoth was afraid of going to hospital because she believed there was a greater risk of exposing herself and her newborn to Covid-19.
Although her fears were driven by unverified reports, Akoth asked her husband to call in a traditional midwife.
"It was at night and my husband was willing to take me to hospital but I would hear none of it since I was afraid of contracting the virus," Akoth said.
In Manyatta slums, Zaida Awino, 30, said she gave birth to her second-born at 8pm in the house because she feared flouting the dawn-to-dusk curfew.
"With reports that hospitals are high risk I could not dare giving birth there. What if I had high temperatures and was forced into quarantine?" Awino posed.
In Nyalenda slums, Jane Auma who is two weeks away from her expected due date, shares her fears.
"There is no way I will risk going to the hospital because I do not want to expose my family to the virus," said Auma.
Just like Akoth, Awino sought the services of Agnes Muhonja, 68, a traditional birth attendant who says the pandemic has seen a rise in the number of clients.
"Last night, I helped three mothers give birth," she said while showing details of the babies recorded in a worn-out notebook.
When she runs short of razor blades, Muhonji uses sugarcane peelings to cut the umbilical cord. She charges Sh2,000 for her services.
She says since the enforcement of dawn-to-dusk curfew, in a day she attends to at least 15 women who are either seeking antenatal, postnatal care and those giving birth.
Reports at the Jaramogi Oginga Odinga Teaching and Referral Hospital show the facility has recorded a 60 per cent drop in births since the pandemic started.
In April last year, the facility had a total of 1,000 births compared to 400 recorded in April this year. Medics at the facility said the number of deliveries is an average of 18-25 per day, from a previous average of 35-40.
Reports from Kisumu County Hospital indicate that before the enforcement of the dawn-to-dusk curfew the facility recorded 11 deliveries per night which has reduced to four.
The hospital's nurse-in-charge Millicent Oloo said a number of mothers are opting to deliver at home for fear of being exposed to the coronavirus. The situation has been aggravated by the curfew that makes it difficult for expectant women to seek help in hospitals as they fear being arrested.