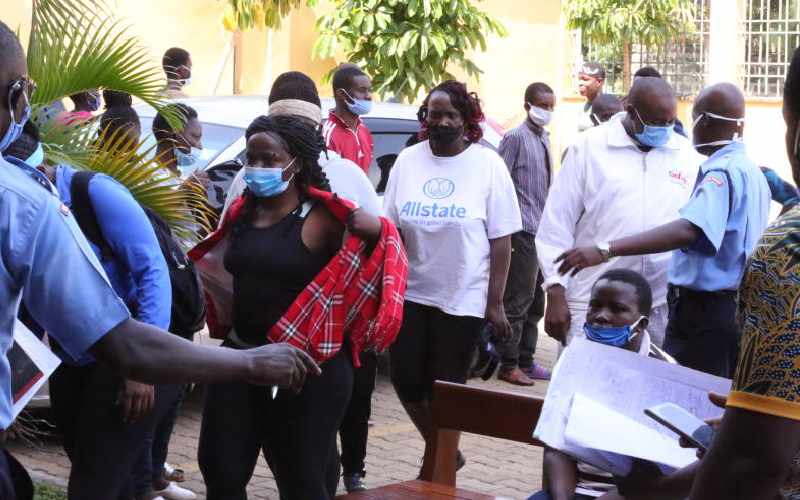 Thirty six fitness enthusiasts, among them nine minors, have been arrested in Kisumu for flouting Covid-19 safety guidelines.
The suspects were found jogging this morning at an estate in Kisumu without keeping social distance.
They were swiftly arraigned before Kisumu Senior Principal Magistrate Robinson Ondieki.
They faced charges of flouting the Public Health Act of failing to keep safe distance while doing exercise in a residential estate.
Ondieki unconditionally released the minors and fined the 27 others Sh1,000 each after they pleaded guilty.
The charges read that on May 20, 2020, at Mlimani and Tom Mboya Estates, Kisumu Central sub county, they were found jointly to have not kept a physical distance of 1.5m apart, contravening directives issued by the Health ministry.
Early morning exercises have become popular in Kisumu since the Covid-19 restrictions started, with many residents crowding the highways and estate streets to keep fit.
The magistrate told the accused they were lucky to escape with the lesser fines.
"In cognizant to the guidelines you have to adhere to those rules that help in combating the spread of Covid-19, you were to be jailed but I'll give you another chance."
Those charged included Felix Omollo, Felix Ogutu, Sharon Auko, Davis Oluka, Everlyne Atieno, Nicholas Otieno, Derick Kiari, Joseph Osoro, Peninnah Ojode, Lucy Mboga, Beatrice Omondi, Victor Manoa, James Omondi and Egedi Odhiambo.
Others were James Okello, Annete Maugo, David Okoth, Elida Omondi, Steve Omondi, Daniel Omondi, Alphine Odidi, Carolyne Okweng, Caroline Akinyi, Rose Okumu, Perez Akinyi, Boron Okoth and Eugene Otieno.
As efforts are made to contain the disease, many citizens try to make do with the new containment measures, majorly the curfew and partial lockdown.
Many now work from home as many offices are closed to reduce spread of Covid-19.
With little room for physical activity, many now opt for morning and evening exercises - all which have to fall within the hours before the curfew.
Other than jogging in the morning and evening, others have taken up hiking especially in Karura Forest, Ngong Hills and Aboretum in Nairobi.
But the Kisumu case brings more attention to what the Health ministry has called outright flouting of rules set in place, and that it would attract punishment.
Today, few practice social distancing, especially in the streets and markets such as Gikomba.
Such behaviour reminds one of Health CS Mutahi Kagwe's words, that if we continue to treat this disease normally, it will treat us abnormally.