Flood victims cry for help as lake's waters keep rising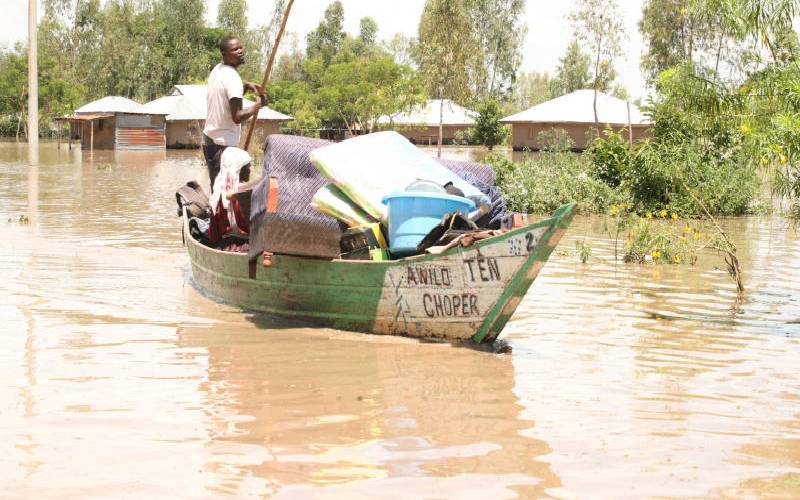 Kisumu Governor Anyang' Nyong'o's has appealed to well-wishers to help hundreds of families displaced by flooding caused by heavy rains and back-flow from Lake Victoria.
The families are living in deplorable conditions inside several camps scattered across the county after being evacuated from flooded areas in what Prof Nyong'o described as "a humanitarian crisis".
"The situation is dire and calls for immediate intervention through urgent provision of relief food, mattresses and blankets, mosquito nets, clean drinking water, water purification chemicals, masks and sanitisers, and medical supplies," said Nyong'o.
The county is struggling to raise resources to help the families.
The Standard found families crammed inside classrooms at Ombaka Primary School in Nyando Sub-county. Nearby, some parents were wading in water to salvage what they could from their flooded homes.
Several women were clutching onto crying babies, trying to calm them down. A number of them claimed that had not eaten anything since Monday night when they were displaced by flooding.
Yesterday, more families moved in after another night of heavy downpour, further compounding the crisis rapidly unfolding inside the camps.
Women, children and the elderly are the hardest hit.
"There is nothing here for us. We are only surviving by the grace of God," said Philkister Auma, 65.
The families now fear that further flooding could force them out of the camp.
Before moving to Ombaka Primary, the families had been camping at Ombaka Secondary, about 100 metres away, before it was submerged, forcing them to a new camping site.
"There is a likelihood this school will also be flooded, then we will have no other alternative," said Leonard Ogolla, a village elder who is still counting losses incurred from the flooding.
"Everything I owned, including my house, has been swept away. We are hoping that we can get some assistance to get back on our feet," he said.
He claimed that the health of elderly people at the camp had deteriorated since they moved in, and raised fears that the situation could get worse.
Fight for survival
As the government struggles to contain the spread of Covid-19, families at the camp said the disease is the least of their concerns.
"We are fighting for survival. Most of us are not thinking about coronavirus. We do not have masks or even hand sanitisers," said Linet Akinyi, a mother of three.
Other camps that have also been affected in the region include Osodo Primary in Nyakach Sub-county, which is hosting more than 100 families.
Water and environment executive Salmon Orimba said the county is still evacuating hundreds of people trapped in flooded villages.
Several families have sought refuge along the Kisumu-Nairobi highway as water levels continued to rise in marooned villages.
Several houses have been swept away, while many of those still standing have almost completely been swallowed up by floods, with only their roofs rising above the water.