Drama as residents chase away investors over sale of mineral land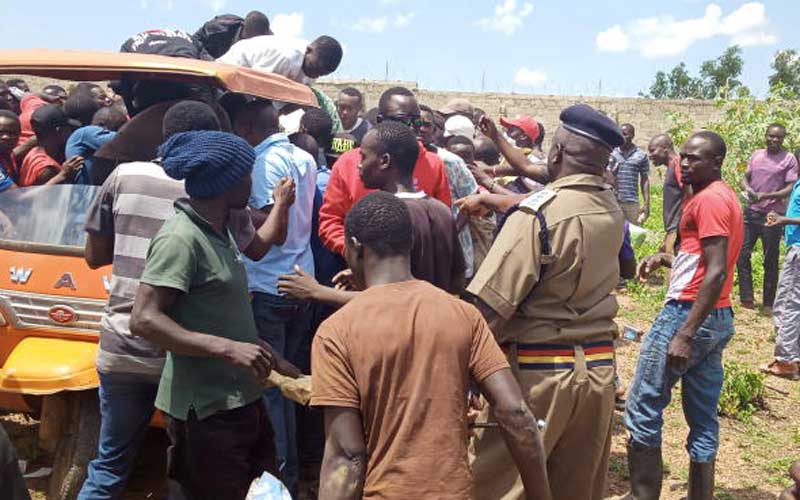 Chaos broke out at a shopping centre in Migori County after residents attacked four foreign investors, accusing them of land grabbing.
The investors, alongside their local handlers and a provincial administrator, fled from a restaurant at Masara shopping centre near local gold mines where they were allegedly signing documents for the mineral-rich 10-acre land for which they had allegedly paid Sh2.5 million.
The chaos started at the market and spread to a gold mining site operated by the investors. Residents looted property of unknown value.
The investors ran across the fence, with villagers in hot pursuit.
Members of the family whose land is in contention were to meet the administrator and the investors at the administrator's office to discuss the matter, but they got agitated after he failed to show up.
Backed by a group of villagers, the family members trooped to the shopping centre where the administrator was meeting the foreigners. They disrupted the meeting, forcing the administrator and his guests to flee.
Angry gold miners joined the fray and accused the investors, who are running a gold mining company in the area, of short-changing the family.
Take a quick survey and help us improve our website!
Take a survey
Family members who spoke to journalists later claimed the investors were using a member of the family to sign a land deal without involving the rest.
Investigations
Officer commanding the local police station Alex Songa said they had launched investigations.
Mr Songa blamed the incident on incitement, but promised to give more details after investigations were completed.
"The whole issue has resulted in the looting of property as a result of incitement by a few individuals. We will ensure the culprits are brought to book," he said.
Some of the family members said the sale of the land to the investors was shrouded in secrecy and controversy.
Family spokesman John Riana said the administrator had called for a meeting of family members and the investors at his office at 9am, but by 11am he had not turned up.
Mr Riana said angry villagers walked to the market to confront the investors. He claimed the land had been grossly undervalued.
Albert Kiswaya, a local miner, said government officials should ensure the family is paid what the land is worth.