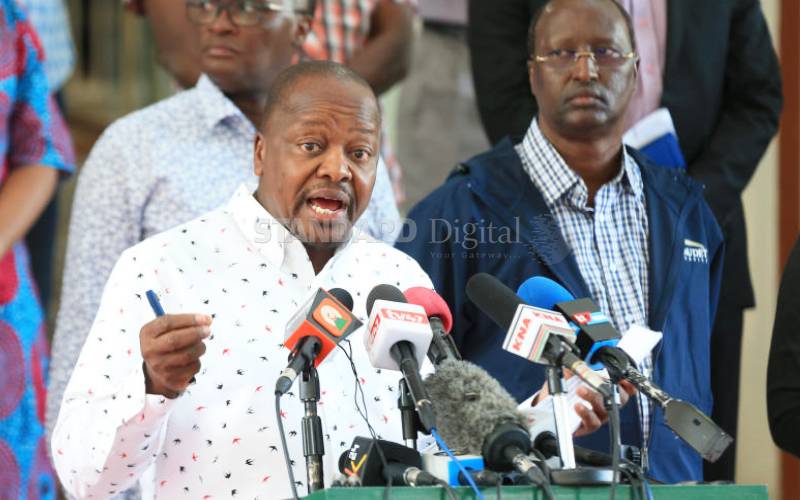 Five people have been placed under mandatory quarantine in Migori county.
The four Chinese and a Kenyan, who was their taxi driver, are locked in a hotel awaiting health practitioners who will test them for coronavirus.
The five reportedly drove from Nairobi to Migori on Sunday.
They are yet to exhibit any symptoms.
County Health executive Isca Oluoch said the five will only be released once doctors give the go-ahead.
The Chinese arrived in Kenya at the beginning of the month and have been self-isolating for two weeks.
But Olouch said documents needed to substantiate the claims were unavailable.
Meanwhile, panic has gripped Siaya residents after it emerged that one of those diagnosed with Covid-19 on Sunday visited Ugunja for a funeral.
At least 100 Catholics in Ugunja,
Siaya County
, are living in fear after receiving the sacrament from a priest who later tested positive for coronavirus.
The priest is said to be among the eight newly diagnosed covid -19 cases in the country, which were announced by Health Cabinet Secretary Mutahi Kagwe.
Kagwe said that out of the eight cases, which led to a total of 15 cases, five of them were Kenyans, two were Mexicans and one French.
Several residents from Ugunja Sub-County who could have interacted with the cleric at the funeral are also living in fear.
At the same time, a pastor has been put under mandatory quarantine at
Narok Hospital
by the county emergency response team after arriving from a trip in Sweden and failing to self-quarantine as stipulated by the government. Addressing journalists outside his office today, area county commissioner Samuel Kimiti said that the female pastor arrived in the country last Wednesday and hosted several gatherings before the elapse of the 14-day quarantine.