Leaders: Exposure to porn films to blame for teenage pregnancies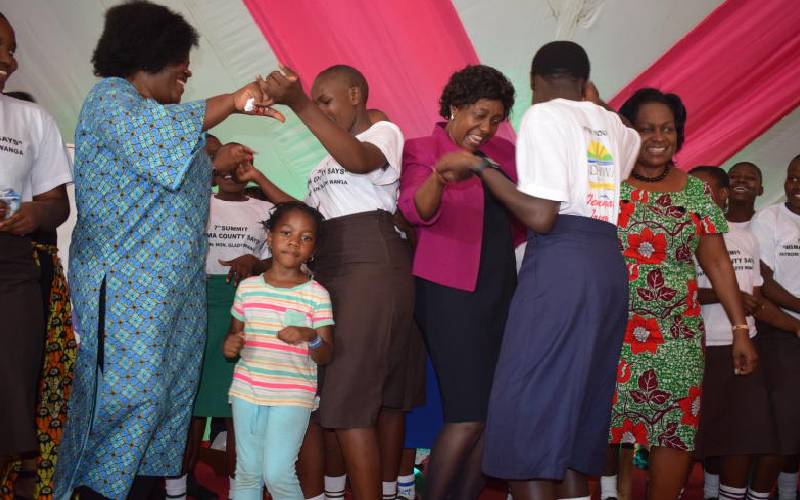 Parents and teachers have been challenged to stop children from watching indecent films to avoid premature sexual behaviours among teenagers.
Speaking during this year's girl child empowerment programme dubbed "Mama County Says" in Kasipul, Homa Bay County, Kitui Governor Charity Ngilu said time had come for parents and teachers to avoid risks which can expose children to teenage pregnancies and sexually transmitted infections.
"School going minors should be kept away from pornographic videos and other indecent musical content. Let parents and teachers be keen in regulating children from watching obscene films," said Ngilu.
Kenya Film and Classification Board CEO Ezekiel Mutua told film and music producers to consider the content of what they produce to ensure they don't deceive children.
"We allow our youth to nurture their talents by producing music and films but this does not mean they should produce unsuitable content. We cannot allow circulation of a film or music with bad content," said Mutua.
The programme organised by Homa Bay Woman Rep Gladys Wanga's office in collaboration with other partners brought together more than 4000 girls and boys for mentorship at Eng. Peter Owidi Nyahera Girls Secondary School in Kasipul constituency.
Wanga told parents to stop engaging their daughters in family planning as a way of preventing teenage pregnancies.
She said the only way to protect girls from adverse effects of sex is abstinence.
"Our key message to girls is to abstain from sexual relationships. It is wrong to introduce girls to family planning," Wanga said.
She said abstinence will cushion the girls from premature other diseases and other adverse effects of premature sex.
"Our main objective is to reduce premature pregnancies and the only method is abstinence," said Wanga.
Were warned men against engaging in sexual relationships with schoolgirls.
"It is shameful to find that some men practice sex with girls who are their daughters' age mates," Were said.
Kabondo Kasipul MP Eve Obara challenged leaders to join hands in mentoring girls to enable the country have bright future.
"Let us mould our girls to enable them become future leaders," she said.
Kakamega Woman Rep Elsie Muhanda and Nairobi County Assembly Speaker Beatrice Elachi called for punitive measure against anybody who defiles minors.
"Let men stop destroying our girls because their future lies on education," said Muhanda.
Area MP Ong'ondo Were linked the rising cases of teenage pregnancies to early exposure to sexual content among children.