Good news for students as MP Eve Obara disburses Sh5.7m bursary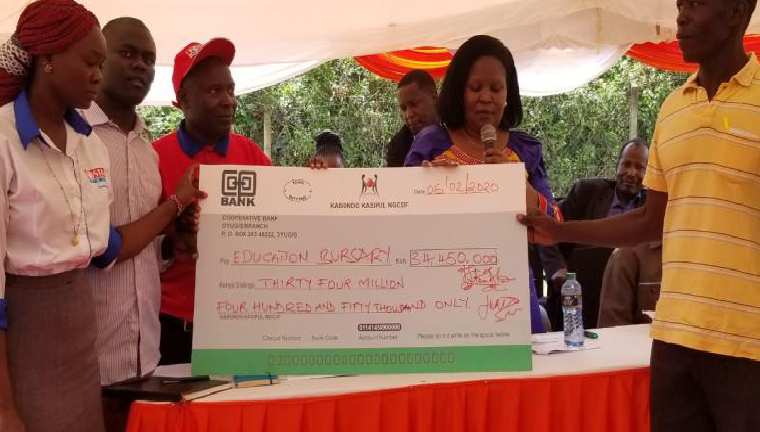 Kabondo Kasipul constituency has disbursed Sh5.7 million bursary to support education of vulnerable students.
Area MP Eve Obara disbursed the funds yesterday at Omuga Technical and Vocational Training Centre in her constituency.
The funds were distributed from the National Government Constituency Development Fund (NG-CDF).
The money included Sh4.6 million for university students and another Sh1.1 million for secondary school students.
At least 664 university students and their 289 secondary students will benefit from the distribution.
The MP also unveiled a dummy cheque of 34.4 million which had been set aside for bursaries from the NGCDF in this financial year.
However, the NGCDF had not received the whole amount of from the government, forcing them to write commitment letters for more than 1500 students who applied so that they can be allowed in schools before the next disbursement.
The MP also disbursed another Sh1m to Technical and Vocation Training Center.
Speaking during the function, Mrs Obara said her office was committed to promoting education in the area.
"I have realised that there are many students with capability of pursuing education but they cannot achieve their ambitions due to lack of fees," said Mrs Obara.
The MP said her objective is to ensure the constituency gets productive people in future.
"We cannot achieve our development goals if we fail to invest in education. That is why bursary allocation must be done effectively in line with regulations which govern the NGCDF," she said.
Obara also urged students in the area to embrace technical education in the area.
She argued that time had come for the youth to stop depending on white collar jobs due to growing population in Kenya.
"The technical training institutions are a source of job creation. Let the youth change their attitude," she said.
Omuga Technical and Vocational Training Centre Principal John Omwoko asked teachers in secondary not to put pressure on students that they have to join universities, adding that vocational training colleges are equally good.
"You will find secondary school teachers putting pressure on their students to join universities. Eventually, those who fail to join universities feel their lives are ruined but that is not the case. There is bright future in technical colleges," said Omwoko.