Civic bodies petition Homa Bay assembly to halt debate on bill over loopholes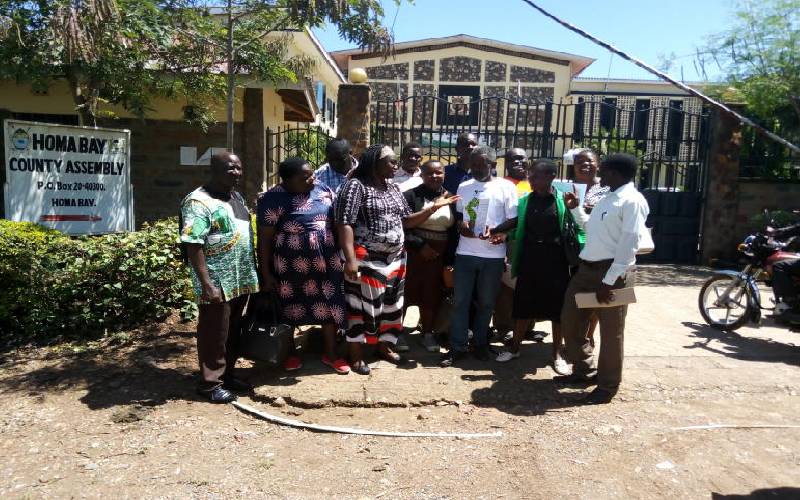 Six civil society organisations have petitioned Homa Bay County Assembly to stop debating a bill on public participation.
The legislation christened 'Homa Bay County Civic Education and Public Participation Bill 2018' sponsored by nominated MCA Nancy Anyango is expected to undergo second reading when the assembly proceedings resume this month.
But the organisations, Pambazuko La Wanawake Magharibi (PALAWAMA), Homa Bay County Bunge La Wenye Nchi (HBCLWN), Interface Community Help Desk (ICHD), Ndhiwa Accountability Network, Africa Gender Research Agency and Homa Bay Disability Forum have presented a petition through office of the assembly clerk Daniel Kaudo to stop the assembly from discussing the bill.
The lobby groups said the bill lacks fundamental regulations which should govern the way public participation should be conducted.
According to PALAWAMA Chief Executive Officer Everline Khaemba, the bill had loopholes which should be sealed before it proceeds to subsequent readings.
Ms Khaemba cited failure by the bill to specify village as the lowest level where public participation fora should begin.
"We also want the bill to be specific in quorum by stating which type of people should be present in any given public participation forum. Such a forum comprises people with disabilities, women, the youth, men, the elderly and other groups of persons in the society," said Khaemba.
She said the bill has excluded resources for undertaking public participation exercises, which she said was an important aspect.
HBCLWN Co-coordinator Okano Nyasanga said the bill had not stated a clear means of communication for informing residents of date and venue of a public participation forums.
"Lack of proper means of communicating to the citizens, time and venue of public participation is tantamount to excluding them from the forums. This is more of denying them proper service delivery," said Nyasanga.
ICHD chairman Oloo Gor said their aim is to ensure that residents' views are captured in public participation fora in future.
The lobby groups want the assembly to give room for amendments before the bill proceeds for further debate.
"Let it come out clearly that the bill is good, but we want the process temporarily halted to enable us give more input to make it more progressive," added Nyasanga.
Anyango who sponsored the bill told Standard Digital that she is ready to collaborate with anybody and is committed to improving the bill.
"The bill at an advanced stage, but I am ready to co-operate with anybody who supports its success because my objective is to improve well-being of Homa Bay resident," said the MCA.