US envoy, Governor Ongwae hold talks in bid to improve county services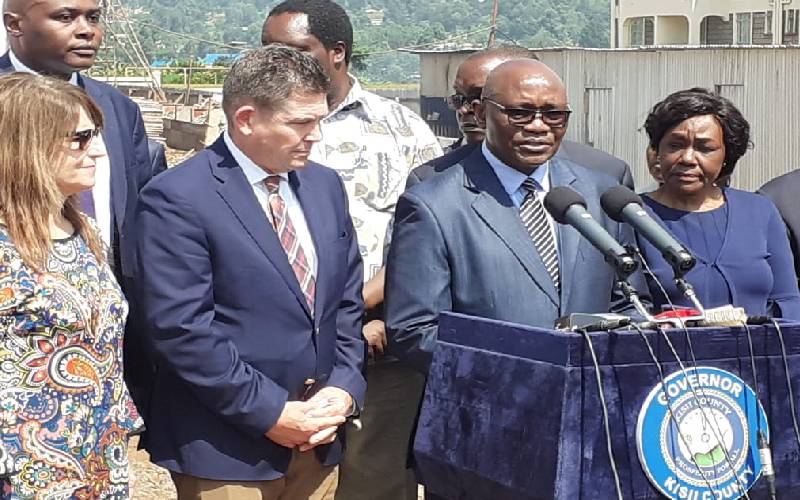 US Ambassador to Kenya Kyle McCarter has called for strengthened ties between the two Countries.
Speaking in Kisii County when he met Governor James Ongwae, McCarter said the US is interested in improving health sector, agriculture and youth empowerment.
The Ambassador said the US government has in the past supported various sectors in the economy and will continue to do so.
"We need to move away from largely depending on aid and focus more on how to improve on trade ties. Kenya has great assets in her people."
McCarter said he will be visiting all the counties in the country to ensure that the US plans to improve service delivery in various sectors of the devolved units is on course.
The ambassador toured various developmental projects in the county including Kisii Teaching and Referral Hospital and the newly built fire station.
He applauded the governor's commitment to service delivery especially in health sector.
Ongwae said they discussed with the envoy on how to support the health sector, disaster management and the famous Kisii Soapstone.
"We have a good relationship with the American people and they have been supportive on youth empowerment. There is need to have their input in other sectors."
A new hospital is to be built in Magenche ward Bomachoge Borabu in Kisii county to help improve health care, Kisii county governor James Ongwae has said.
This is not the first time Governor Ongwae is wooing investors such as US government to help improve some of the key sectors such as health.
Last year, Ongwae engaged an Austrian firm to build health facilities in the county and the programme is already bearing fruit.
"As the governor, I will engage both local and foreign to set up hospitals to boost health sectors for our people. Locals will get job opportunities at the facility once it is set up," said Ongwae.
He assured that his administration is committed to ensure locals get proper healthcare to curb unnecessary deaths caused by poor medical services at health facilities.