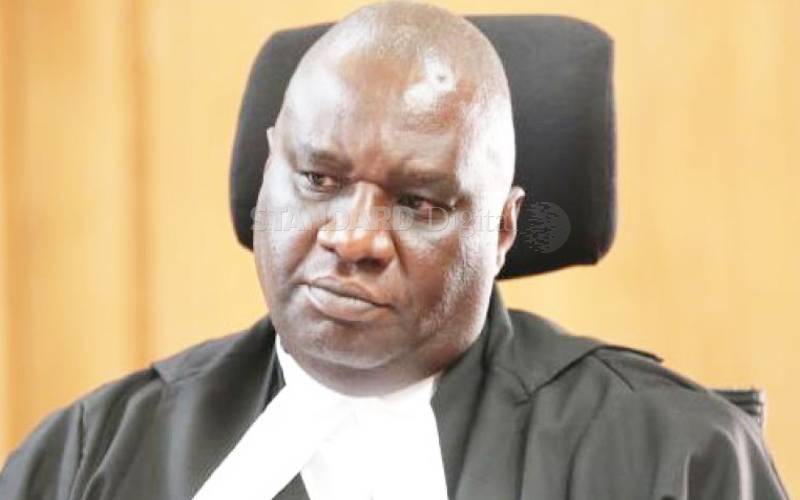 The cause of Justice Otieno Odek's (pictured) death is a blood clot in his leg.
A three-hour postmortem was conducted at the Aga Khan Hospital morgue in Kisumu by chief pathologist Johanssen Oduor.
Oduor was joined by other pathologists, family representatives and Directorate of Criminal Investigations officers to establish what killed the judge.
The clot in his right leg caused a blockage in his arteries.
Odek was found dead in his house on December 16 in Kisumu town.
Judge Odek loved good things and shared his spoils with the common man in his village.
Those who knew him well say he was not only brilliant and a workaholic but had a big heart for the downtrodden in his Asembo village, Bondo sub-county.
Odek was the director of the Judiciary Training Institute in 2016-18.
The 56-year-old was sworn in as a Court of Appeal judge in 2012.
In 2011, Odek unsuccessfully applied to be a Supreme Court judge.
He will be buried in Siaya this weekend.
Court of Appeal president Justice William Ouko will issue a directive on Thursday or later on what action will be taken on Odek's cases.
He was handling some sensitive cases and in others listed as a witness.
The Judiciary on December 20 suspended all the Courts of Appeal sitting outside Nairobi due to a shortage of judges at the Appellate court.
Ouko said the number of Appellate judges has shrunk to a worrying level due to retirement, the appointment to other offices and the recent death of Odek.
He said sittings in Kisumu, Malindi and Mombasa will be suspended beginning January 13 until after other judges are appointed to fill the gap.
The Judiciary will be in Nyanza to close his files and celebrate his contribution to the service.
Odek, whose death shocked many, had a full in-tray with a dozen high-profile cases, some of which were due for judgments.
President Uhuru Kenyatta mourned the Court of Appeal judge describing him as a prolific intellectual and a gifted legal mind.
The President said Odek's death was not only a big blow to his family and the Judiciary but the country which he "served with commitment and dedication in the dispensation of justice without fear or favour".
"In this hour of sorrow and grief, I convey my deepest sympathies and heartfelt condolences to Justice Odek's family, relatives and friends," Uhuru said.
Judicial staff, as well as members of the Law Society of Kenya (LSK), hailed Odek for his exemplary service to the nation.